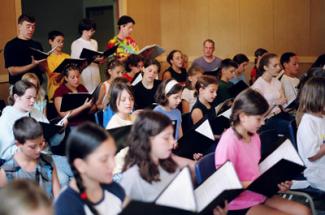 Choir Camp singers lifting their voices in song. In its 16th year, Choir Camp presents singers from grades 4-12 an opportunity to travel the world in a single week! Campers learn about and sing music from across the centuries and around the globe:  baroque music, canticles, anthems, Spanish songs, gospel, African chant. It's a great chance to learn about church music and its traditions; the week ends with a Festival Lessons and Carols service.
And of course, there's plenty of time to have typical summer camp fun! The Barbara C. Harris Camp in Greenfield, New Hampshire is a great place to swim, hike, do arts and crafts and roast marshmallows around a campfire.
No audition required, no previous choral experience necessary! Scholarships are available.
For more information about Choir Camp, see: bchcenter.org/camp/programs/special.htm