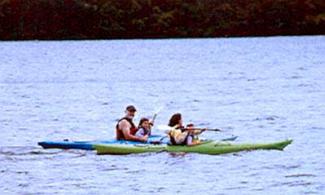 Family Campers kayaking on the lake Come together to enjoy God's creation and to delight in one another at the Episcopal Diocese of Massachusetts' beautiful Barbara C. Harris Camp in Greenfield, New Hampshire.
All kinds of families -- parents, children and grandparents -- come together for this weekend experience that truly refreshes body, mind and spirit. Fun abounds with swimming, boating, hiking, campfires and games. Reflection time together with peers, intergenerational activities and daily creative worship open the way to grow in faith and understand God's love in deeply profound ways. Share meals without rushing or cooking. Come feed your soul and connect with family members, friends old and new and with God.
". . . the treasured images and memories of share family time, quiet canoe rides, dancing and laughter and the Un-Talent Night, Compline on a stormy evening, bonfires and the stories my kids tell capture what Family Camp means to me . . . all of us were part of Christ's family together."

-a Family Camper
For more information, see the Camp web site at: bchcenter.org/camp/programs/family.htm
or contact Colette Wood (617-922-9664; ctwood@ststephenscohasset.org).
A registration form is available from the Camp web site.