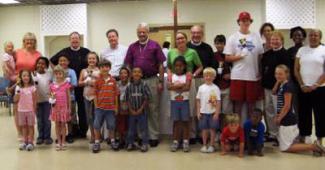 Bishop Bud Cederholm on the Gulf Coast with a work group from Massachusetts
In response to the havoc wreaked on the Gulf Coast by Hurricane Katrina in 2005 and the government's inadequate response, Bishop Bud Cederholm and a group of concerned volunteers formed the Gulf Coast Task Force. The aim of the task force has been to provide medical relief, aid and labor for rebuilding and pastoral assistance to the people of Mississipi and Louisiana.
In January of 2007, the task force commissioned the Rev. Jane Bearden to work with our partner, the Church of the Redeemer in Biloxi, Mississippi and with the Diocese of Mississippi. Jane writes a blog where you can read stories of her experiences working in the area and develop a full understanding of how valuable her work is.
How can I help?
Of course, donations are always welcome: click on the link and select "Katrina/Gulf Coast Relief" where it asks how you would like your gift to be used. However, you can also take action. Many parishes are now taking on mission trips to the Gulf Coast. Volunteers are needed to clean out and rebuild houses, serve meals and perform other services as needed. Contact the task force or the Rev. Jane Bearden if you would like a speaker to visit your parish or you want help with organizing a trip; also see the attached planning guide.
For other possibilities, check out Rev. Jane's suggestions.
Medical Professionals & Samaritans Now
If you are a medical professional, please consider joining Samaritans Now. Approximately 70% of the primary care physicians who evacuated New Orleans and the Gulf Coast have not returned. The Episcopal Church is working to improve access to medical care; in New Orleans, St. Anna's Church is operating a free clinic with a medical van in the 9th ward, and in Biloxi, the Lutheran Episcopal Disaster Response (LEDR) is providing a free medical clinic in a local church. Samaritans Now sends a team of medical workers, mainly physicians and nurses, to work in Louisiana or Mississippi for one week each month.