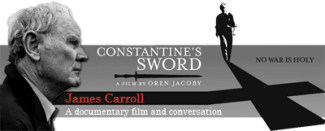 The Emmanuel Center, a new interfaith partnership between Emmanuel Church and Boston Jewish Spirit, will celebrate its inauguration with a conversation with James Carroll, author of Constantine's Sword and subject of the documentary of the same name.
Carroll will speak on Sunday, Nov. 16 at 4 p.m. at Emmanuel Church.
For those who haven't seen the documentary, there are two pre-event screenings of Constantine's Sword at Emmanuel:
Saturday, Nov. 15 at 7:30 p.m.
Sunday, Nov. 16 at 2 p.m. (before the main program)
For more information, contact Emmanuel Church(617-536-3355) or Boston Jewish Spirit (617-262-1202).
Emmanuel Church
15 Newbury Street
Boston, MA 02116-3185
617-536-3355