There's always a lot going on at St. Luke's-San Lucas Church in Chelsea, but this week, it's a lot more than usual, and the pressure is on.  New walls are getting painted, new fire alarms are being tested and carpenters are putting final touches to hardware, finishes and floors.

A seven-month, $1.2-million diocesan-funded renovation of the little mission church on Washington Avenue is nearing completion, and if various city departments grant the necessary occupancy approvals on time, the people of St. Luke's-San Lucas hope to open their new doors on Thanksgiving Day.

"I am actually putting all my hope on Thanksgiving Day, that the new kitchen and the parish hall will be open," the Rev. Edgar Gutierrez-Duarte, the vicar of St. Luke's-San Lucas, said.  "We have a commitment to the community of Chelsea, because we feed over 100 people on Thanksgiving Day."

In October, the City of Chelsea named Gutierrez-Duarte its Community Organization Person of the Year in honor of "all you do to advance the cause of Chelsea and its people," according to a notice from Chelsea's city manager, Jay Ash.

"What I said in my acceptance speech was that this is an affirmation of the work that we do at St. Luke's.  In a city that has some big churches, this is a small church that is doing a lot, and that work is appreciated by the city," Gutierrez-Duarte said.

The Thanksgiving Day opening looks promising, according to the senior project manager on the job, Brian Laroche of Potomac Capital Advisors.  "This becomes a tough time of year in terms of putting food on the table with limited resources, so the timing couldn't be any better for getting [the buildings] back open to the community," Laroche said.

St. Luke's-San Lucas Church is a site for the diocesan-supported B-SAFE summer program for children, and year-round, since Gutierrez-Duarte arrived in 2007, it has been operating its weekly food pantry, community meal service and thrift shop, alongside regular church activities, in an outgrown configuration of aging buildings that were well-loved but worse for wear.

Imagine a typical Saturday, when patrons of the food pantry--which feeds some 250 families a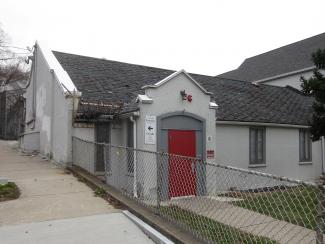 Potomac Capital Advisors The parish hall entrance before renovations week--arrive to pick up their allotment of pre-bagged food.  They would queue up in the concrete stairwell of a side entrance that took them down and in and then up to the second floor pantry area.  Then, with filled grocery bags and carts in hand, they had to make their way back out against the flow of incoming patrons. 

"The demand has grown so much--now it's up to 1,000 people--this is the only way we could do it," Gutierrez-Duarte explained.  "And, we needed to store all this food, so we got freezers and refrigerators and put them wherever we could, like a real mom and pop.  We were using up lots of energy with that, and if we needed something, we had to go all over the place to find it," he said.

Potomac Capital Advisors The parish hall entrance after renovations
Meanwhile, 100 or so guests would be coming and going for hot breakfasts and lunches in the upper level of the parish hall, served from a small kitchen on the lower level. 

And, the thrift shop would be in full swing in a space so crowded that the sorting of donations had to take place amongst the circulating customers.

Roofs were leaking, the basement was damp, moldy and uninhabitable, and, in summer, the heat had to be turned on in order to get hot water to the kitchen and bathrooms. 

"Our physical structure was failing, whereas our outreach and our worship life were thriving," Gutierrez-Duarte said.  "So we have a major problem.  How can we make this more functional, more cost effective and also make the church more hospitable?  At the moment, it did seem impossible, or very difficult."  

After the church had to ask the diocese for a grant to remove a leaking oil tank, and then for a loan to replace the sanctuary roof, Bishop Tom Shaw summoned Gutierrez-Duarte to a meeting. "That call was very scary," the vicar recalled.  It seemed a breaking point had been reached. 

In the meeting, Gutierrez-Duarte made a case for not closing or moving the church's operations:  the current location was good and ministry was taking on momentum with support from other churches in the Mystic Valley Deanery.  And then, as he recalls it, the conversation took a surprising turn.  "Then Tom, in his particular way, looked at me and said, 'Edgar, what would you do if you had a million dollars?'  He asked for a proposal, and that's where things began." 

Potomac Capital, a real estate advisory firm, was brought in to take a look at the infrastructure that was both home and hindrance to all that was going on at St. Luke's-San Lucas.

One option was to renovate the existing facilities--the cheapest way to go, but it wouldn't accommodate growth.  Another was to renovate and build an addition on the small parking lot adjacent to the church—expensive and not a logical placement of new building space. 

Then they identified a middle way, and the middle way won the day.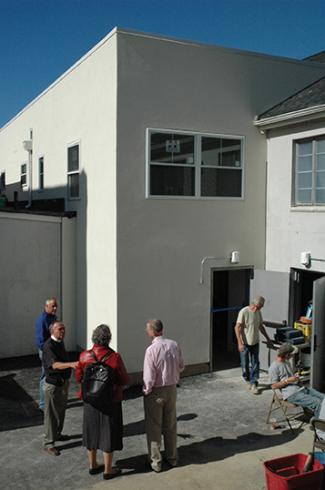 Tracy J. Sukraw Edgar Gutierrez-Duarte shows visitors the new fill-in addition during a September site visit. A 500-square-foot gap between the church and its attached two-story school building could be filled in with a small two-story addition.  It would provide consolidated, modernized food storage for the food ministries, which would now be grouped together on the lower level, and more space upstairs for offices, classrooms and bathrooms.

Reconfiguring the existing space to group related programs together in discrete areas would improve flow and create efficiencies.  The plan would also upgrade roofing and necessary building systems, add handicapped accessibility to all levels of the buildings and solve the water problem in the basement so it could be reclaimed as a dry and spacious home for the thrift shop.

"In his wisdom, Bishop Shaw in September of 2012 brought the Diocesan Council to St. Luke's for its meeting, on a Saturday, our busiest day!" Gutierrez-Duarte recalled.  "They had to make their way through all this activity, so they really got the full picture of what we were trying to do, but also what we were up against with our buildings."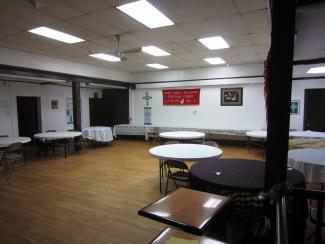 Potomac Capital Advisors The parish hall before renovations The council approved the construction project proposal that day, and in March 2013 approved the $1.2-million budget, to be funded from proceeds from the sale of closed churches.  Work began in April of this year.

"This is a church in a changing community," said Steve Pierce, the congregational coordinator on the diocesan staff who works with churches that are closing and on other property projects.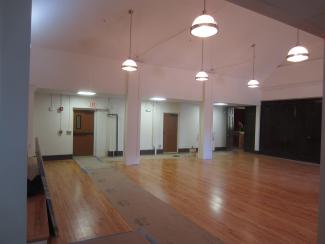 Potomac Capital Advisors The parish hall after renovations
"From a diocesan perspective, one of the purposes of the closed church proceeds is to build up ministry and mission.  This project represents a major investment by the Episcopal Church in the city of Chelsea.  Chelsea is not the only place where such an investment could make an impact, but it was clearly a compelling one.  Here we have this formerly Anglo church nestled in a city that is becoming more and more Hispanic and which has been through incredible economic challenges," Pierce said.

"We had a building that did a pretty good job for a long time for the purposes for which is was originally built, but times have changed, the community has changed and needs have dramatically changed.  You've now got a facility that is really going to enable the feeding of people in a much more effective manner.  Now it's up to the congregation to recommit and rededicate themselves to the development of the ministry," Pierce said. 

To that end, Gutierrez-Duarte and the vestry will be working with a team of diocesan congregational development staff members and consultants to work on a strategic plan that includes building up leadership capacity and financial stability. 
Gutierrez-Duarte estimated that there are about 100 to 110 people in church on an average Sunday, about a fourth of them Anglo and about three-fourths Hispanic.  Available parochial report data show some congregational growth:  average Sunday attendance went from 83 in 2008 to 93 in 2013, with pledge units up from 30 in 2008 to 47 in 2013.

"Although very excited about the possibilities for this new ministry, Diocesan Council and the leadership at St. Luke's-San Lucas were challenged by the question of how to develop the increased lay leadership necessary to sustain it," said the Rev. Canon Libby Berman, Canon for Congregations, who heads the diocesan Congregational Development Team.  

"We have only just begun this work; there is much more to do.  But we have faith that all our efforts will bear much fruit as we work together," including, Berman said, "valuable, new relationships all around."
"It is really wonderful to see this project coming to fruition," she said.  "We finally are able to see the results of a great many people's prayer, consideration and efforts.  New ministry is arising from resources left by others whose ministry in the diocese was complete.  It's an inspiring resurrection story for our time," Berman said.

Even with some unexpected costs--support beams needing steel reinforcement and a sprinkler system required by the fill-in addition, for example--the project is coming in on budget, according to Pierce.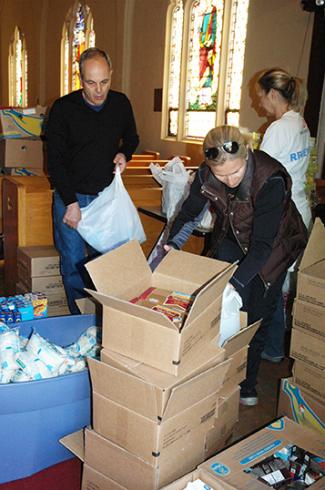 Tracy J. Sukraw Volunteers sort food pantry donations in the sanctuary during renovations. The project has had additional help from many friends, including parishioners who donated money and paint for the church's exterior; Potomac Capital, which procured donated commercial kitchen equipment from another project; and partnering churches, the Parish of the Epiphany in Winchester and Grace Church in Medford, which helped pay for a walk-in freezer.  (Those parishes, along with St. Paul's Church in Lynnfield and Trinity Church in Melrose, partner in the Chelsea food ministry, providing volunteers and other support.)

During the seven months of construction, only the thrift shop has had to temporarily close.  The food pantry has continued to operate--with volunteers sorting and distributing 3,000 pounds of food a week from the pews of the church's sanctuary--as has the community meal program, though it has had to simplify its offerings to sandwiches and, during the summer, outdoor barbecues.

For all the significant functional and safety improvements made to St. Luke's-San Lucas over the course of the project, the most dramatic, according to project manager Brian Laroche, come down to aesthetics. 

"The original exterior appearance was not as inviting as it could be," he said.  He described the new glass doors in wider, architecturally significant, handicapped-accessible entrances, along with new cream-colored paint to cover the formerly gray exterior, as "an amazing transformation" that people in the community began to respond to immediately.

"Within a week of installing the access ramp, someone brought in an aunt who is in a wheelchair.  It was the first time they'd been able to bring her to church.  We didn't even have the handrails on the ramp yet and they were already using it," he said.  "Before, the building sort of said, don't come here.  Now, the building is happy, to give it a personification.  It just looks so much fresher, cleaner and more welcoming that it ever did before," Laroche said.

"To the credit of our builder, Jim Stukel, and Potomac Capital, they not only accomplished something that is functional and addressed our problems, but they created beauty with it," Gutierrez-Duarte said.  "For our guests, especially, having to be in an undignified situation in a small, crowded space to get some bags of food, that played a big part in our considerations.  We want people to be in a nice facility that is clean and where they are treated with respect and dignity," he said.

"It is certainly our hope, and we are working with the team from the diocese, to take advantage of the curiosity which there is in the community about our project, and its attractiveness, to bring in new people and involve them.  We have big plans," Gutierrez-Duarte said. 

It all starts, again, on Thanksgiving Day.

"¡Gracias a Dios!" the vicar says.  Thanks be to God.
--Tracy J. Sukraw
Read more about food ministry in Chelsea and elsewhere in the diocese here.