It was a full house at Grace Church in Everett on June 18 and a historic occasion--the first-ever Confirmation service coordinated by the African Clergy Caucus in the Diocese of Massachusetts. 
Bishop Alan M. Gates was there to confirm 20 young people from four congregations with African diaspora members:  Christ Church in Hyde Park, St. Stephen's Church in Lynn and St. Peter's Anglican Church at Christ Church in Waltham, in addition to Grace Church, Everett. 
Nearly 350 people participated in the liturgy and celebratory feast that followed.

It was the feast day of Bernard Mizeki, who became a Christian through the mission work of the Society of St. John the Evangelist, worked as a missionary teacher in Mashonaland, in what is now Zimbabwe, and was murdered because of his faith on June 18, 1896.  His body is said to have disappeared in a bright light and the rushing sound of wings.  Every year a huge Anglican festival is held near the place of his death to mark the anniversary of his martyrdom.

In Everett, th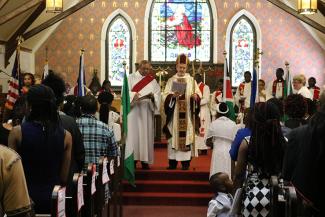 Photo Courtesy of The Rev. Derrick Muwina Bishop Gates blesses flags from five African countries and the U.S. e celebration featured a procession of flags from Kenya, Nigeria, South Sudan, Uganda, Zambia and the U.S., and the liturgy, drawn from the prayer book of the Anglican Church of Kenya as well as The Book of Common Prayer, included music and dancing by groups from the participating churches.

The Rev. Jean Baptiste Ntagengwa, the director of transition ministry on the diocesan staff, characterized the day as a unifying expression of the Anglican Communion at close hand.

"This was a historic event of bringing together Anglicans from our sister churches in Africa who are living here, in the spirit of our diocesan mission strategy to be innovative in bringing congregations together," Ntagengwa said.  "Having this important event on the feast of Bernard Mizeki also highlights the significance of Christianity as a bridge across cultures, across languages, and at the same time, it shows that efforts are being made to bridge gaps and create unity in the Anglican Communion.  It shows the commitment of our diocese to continue to serve everybody regardless of where they come from, and it is an affirmation of the diversity we have across this diocese."

"It was a wonderful celebration," Ntagengwa said, adding that there were many messages of gratitude received from those who attended, "offering joy and prayers to our diocese and saying that this is the beginning of great things to come."
View more photos here.