The people of the Episcopal Diocese of Massachusetts have elected an Ohio parish priest to be their next bishop.

At the special electing convention held on Saturday, April 5, clergy and lay delegates elected the Rev. Alan M. Gates, the rector of St. Paul's Church in Cleveland Heights, Ohio, to succeed the Rt. Rev. M. Thomas Shaw, SSJE as the 16th bishop of the Episcopal Diocese of Massachusetts.  The electing convention took place at the Cathedral Church of St. Paul in Boston. 

In order to be elected, a candidate needed to receive a simple majority of votes from both the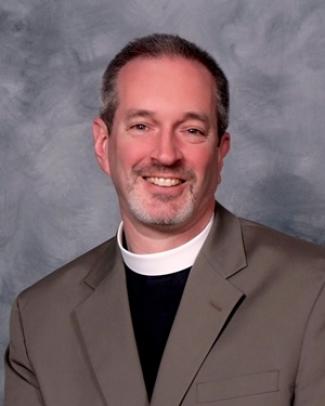 The Rev. Alan M. Gates clergy and lay delegates, voting separately as "orders," on the same balloting round.  Gates secured election on the fourth ballot, receiving 157 clergy votes and 188 lay votes, with 145 and 164 needed, respectively, for election.

There was a delay in the proceedings after the third ballot had been cast because an error was discovered in the first ballot's lay vote tally.  Once the corrected results for ballot one were posted, ballots two and three were deemed invalid.  Fourth ballot results and the election were announced at 3:40 p.m.  [Individual ballot results are available here.]

Gates's election must now receive consent from a majority of the Episcopal Church's diocesan bishops and a majority of its dioceses.  Pending that consent, the bishop-elect's consecration is scheduled to take place on Saturday, Sept. 13 at the Agganis Arena at Boston University, with the presiding bishop and primate of the Episcopal Church, the Most Rev. Katharine Jefferts Schori, presiding.

"To return to the Diocese of Massachusetts a quarter century after my ordination to the priesthood there will be a genuine delight.  To be called to do so as bishop-elect is an unimagined honor and a privilege beyond the telling," Gates said in a statement following the election.  "I am humbled to follow the episcopate of Bishop Tom Shaw who has led the diocese with grace and courage for 20 years."  [Full text of statement follows below.]

The other six candidates were the Rev. Holly Lyman Antolini, Rector of St. James's Church in Cambridge, Mass.; the Rev. Timothy E. Crellin, Vicar of St. Stephen's Church in Boston; the Rev. Ronald Culmer, Rector of St. Clare's Church in Pleasanton, Calif.; the Rev. Ledlie Laughlin, Rector of St. Peter's Church in Philadelphia; the Rev. Canon Mally Lloyd, Canon to the Ordinary of the Episcopal Diocese of Massachusetts; and the Rev. Sam Rodman, Project Manager for Campaign Initiatives for the Episcopal Diocese of Massachusetts.

"Alan is a skilled pastor and he has an appreciation for the complexity of the Diocese of Massachusetts.  I have real confidence in his ability to lead this diocese forward with creativity and dedication.  It will be a pleasure working with him in these next months," Bishop Shaw said following the election. 

"It was a long day, but it was worth taking that extra procedural time," Shaw said of the tally correction made during the balloting process.  "I was impressed with people's desire to make sure everything was in order," he said.

Shaw became the 15th bishop of the Episcopal Diocese of Massachusetts in January 1995.  In preparation for retirement, he plans to resign his office at the time of the bishop-elect's consecration in September.

The Diocese of Massachusetts, established in 1784, is among the Episcopal Church's oldest and largest, in terms of baptized membership, and comprises 183 parishes, missions, chapels and chaplaincies in eastern Massachusetts.

Gates, 56, has been the rector of St. Paul's Church in Cleveland Heights, Ohio, since 2004.  He is a graduate of Middlebury College and undertook graduate studies at Georgetown University.  He holds a Master of Divinity degree from Episcopal Divinity School in Cambridge, Mass.  He was ordained to the priesthood in 1988 and served congregations in the Episcopal dioceses of Massachusetts, Western Massachusetts and Chicago prior to his call to Ohio. He and his spouse, Patricia J. Harvey, live in Shaker Heights, Ohio, and have two children.  [Full bio follows below.]
#  #  #
Statement from the bishop-elect of the Episcopal Diocese of Massachusetts: 
The Rev. Alan M. Gates
April 5, 2014

"To return to the Diocese of Massachusetts a quarter century after my ordination to the priesthood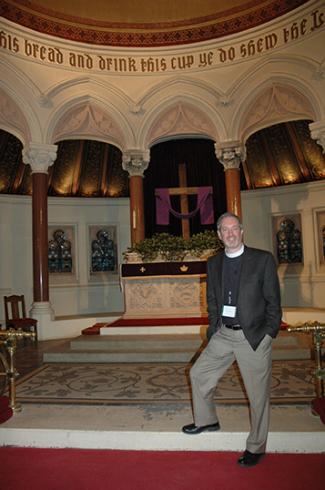 Tracy J. Sukraw The Rev. Alan Gates at the March 16 candidates forum at St. Stephen's Church in Lynn, where he served as a seminarian there will be a genuine delight.   To be called to do so as bishop-elect is an unimagined honor and a privilege beyond the telling.
   
"I am humbled to follow the episcopate of Bishop Tom Shaw who has led the diocese with grace and courage for 20 years.
   
"I salute my fellow nominees, an extraordinary group of gifted and collegial priests.  I thank the electors at today's convention for their confidence. I thank my parishioners at St. Paul's, Cleveland Heights, for their unwavering support.  I thank my family for their love.  Above all, I thank God, the source of all strength and every joy.
   
"As I said during the recent gatherings, the Diocese of Massachusetts is a singular manifestation of the Episcopal Church's gift to hold in creative unity the rootedness of tradition and an openness to Spirit-led change.  I am thrilled to be called to lead in such a vital place with such dedicated Christian people.
   
"Tricia and I look forward to being in Massachusetts, once we have devoted ourselves to a time of bittersweet endings with our companions in Cleveland."
# # #
Biography: The Rev. Alan M. Gates
Currently:  Rector, St. Paul's Church, Cleveland Heights, Ohio
Born:  March 25, 1958
Baptized:  July 13, 1958, at First Presbyterian Church, Springfield, Mass.
Education:
B.A.:  Middlebury College, Middlebury, Vt.
Graduate Studies:  Georgetown University, Washington, D.C.
M.Div.:  Episcopal Divinity School, Cambridge, Mass.
Ordained Priest:  March 26, 1988       
Ministry: Rector, St. Paul's Church, Cleveland Heights, Ohio, 2004-Present; Priest-in-Charge (2003-2004) and Senior Associate Rector (1996-2003), Church of the Holy Spirit, Lake Forest, Ill.; Rector, Trinity Church, Ware, Mass., 1990-1996; Curate, Parish of St. John the Evangelist, Hingham, Mass., 1987-1990; Seminarian, St. Stephen's Memorial Church, Lynn, Mass., 1985-1986
               
Gates was a founding strategy team member for Greater Cleveland Congregations on interfaith action and is vice chair of the board of Bexley Hall Seabury-Western Seminary Federation, having served as a Bexley Hall Seminary trustee (2010-2013) and governance chair (2011-2013).  In the Diocese of Ohio, he was a member of the Commission on Ministry (2008-2012), serving as its chair from 2009 to 2012, and has served on numerous ministry discernment committees.  Currently he is a member of the Diocese of Ohio's Standing Committee.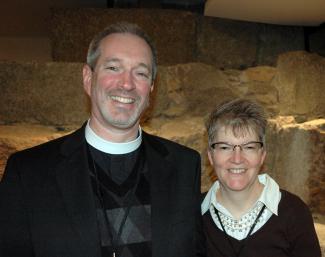 Tracy J Sukraw The Rev. Alan Gates with his wife Patricia Harvey at the Trinity Copley Square walkabout.

He was a member of the preaching conference faculty in 2008 for the Episcopal Preaching Foundation, and served on the board of the Teleios Foundation for U.S.-Russian church relations (1996-2005).  While in the Diocese of Chicago, he was clergy caucus co-convener for Lake County United on interfaith action (2002-2004) and served on the board of St. Leonard's House, an Episcopal ministry for ex-offenders (1999-2003).  In the Diocese of Western Massachusetts, he was a member of the Commission on Ministry and the Adult Education Commission and served as dean of the Franklin-Hampshire Deanery (1993-1996).

Prior to seminary he was a Russian language translator, researcher and intelligence analyst for the U.S. Department of Defense from 1980 to 1984, including a tour of duty at the State Department in 1982-1983.
 
Personal: Lives in Shaker Heights, Ohio.  Married since 1980 to Patricia J. Harvey, circulation manager for the Shaker Heights Public Library.  Two children.