Amy Cook, who serves on the diocesan staff as missioner for education, formation and discipleship, will be leaving at the end of April to take a new position as the head of the formation working group for the Diocese of California in San Francisco.

"It has been a pleasure and a privilege to serve in this diocese. I am amazed over and over at the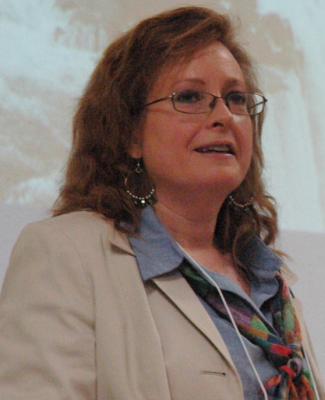 Amy Cook creativity, talent and faith in our churches. I have learned so much and been blessed to share in ministry for Jesus with all of you, and I will take that with me forever," Cook said.

Over her 13 years on the Massachusetts diocesan staff, Cook has overseen the diocesan Resource Center; consulted with churches on curricula for children, youth and adults; organized diocesan learning events and the annual Family Camp; and has been a retreat leader and resource person to many diocesan groups.  Prior to joining the diocesan staff, she worked in the former Cathedral Crossing Bookstore and was the education director at Trinity Church in Concord.  She and her husband, Ron Cook, have been members of Emmanuel Church in Wakefield for 21 years.

"Amy is the definition of enthusiastic; it is a Greek word, meaning 'excited with or by God.'  Her wonderful and joyful commitment, creativity and interpersonal relation skills have served us all well, and she is a brilliant example and inspiration to all of us to be fully engaged in our joint ministry as the baptized of God," Bishop Gayle E. Harris said.  "She will be sorely missed, but I am grateful that she has been with this diocese.  She has enriched us, and I know she will do the same in the Diocese of California.  She has been and is a blessing."