[Episcopal News Service] They all may not have been able to get to their churches, but in the hours after the second of two suspects in the Boston Marathon bombings was captured April 19, Episcopalians in the Boston area continued to support each other and their neighbors.
 
Police captured Dzhokhar Tsarnaev, 19, as he holed up in a boat parked in a backyard just blocks away from Church of the Good Shepherd in Watertown. He was weakened by a gunshot wound after fleeing on foot from an overnight shootout with police that left 200 spent rounds behind.
 
The Rev. Amy McCreath, Good Shepherd's priest-in-charge, e-mailed her congregation shortly after the capture, calling the capture a "great gift."
 
"Your vestry met by conference call while events unfolded tonight, praying for all of you, for your children and especially for our neighbors on Franklin Street," she wrote.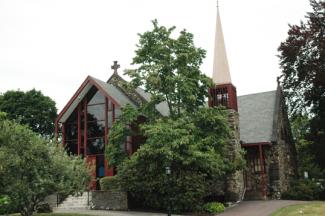 Church of the Good Shepherd, Watertown Good Shepherd was open during the day on April 20 for "prayer and companionship," and Angelita Caceda was one member who came to the church the day after the internationally watched drama unfolded in her neighborhood. The evening before, she had been on the floor of her home as the bright light from a police search helicopter illuminated the room.
 
"When I saw it was Franklin Street I said 'that's where I usually walk. I see that boat all the time,'" she told the Salem Patch website.
 
McCreath said people came in the church and blurted out their experiences from the previous day. "They had it inside and needed to share it."
 
That evening about 300 people gathered on Watertown's Victory Field for a vigil to remember the victims of the Marathon bombings.
 
"This is one way everyday citizens can really give thanks to everyone that took care of us," Mary Labadini, a 56-year-old elder care specialist who lives in Waltham and attended the vigil, told the Boston Globe. "You can't thank them all individually, but this shows the sentiments of the public are with them."
 
Residents at the vigil swapped stories about the dramatic police action in their neighborhoods, including gun battles and methodical door-to-door searches by SWAT teams.
 
Volunteers from a local Veterans of Foreign Wars post passed out American flags.
 
Residents spontaneously sang the national anthem and other patriotic songs, recited the Pledge of Allegiance and listened in silence as McCreath led an impromptu prayer of thanksgiving.
 
Diocese of Massachusetts Bishop M. Thomas Shaw, SSJE came to Good Shepherd on April 21 "as a sign to us of the prayers and companionship of the larger church," McCreath told her parishioners.
 
The church had healing ministers to pray with people during communion and a guided discussion during the Liturgy of the Word for children, "to help them process the events of the week and recover their calm and hope."
 
April 21 was the fourth Sunday of Easter, known as Good Shepherd Sunday because the Gospel appointed for the day is John 10:22-30, a portion of the story in which Jesus calls himself the good shepherd who lays down his life for his sheep. Thus, it is the patronal feast day of congregations known as Good Shepherd.
 
Not all Episcopalians could be in their church buildings for Good Shepherd Sunday. Trinity Church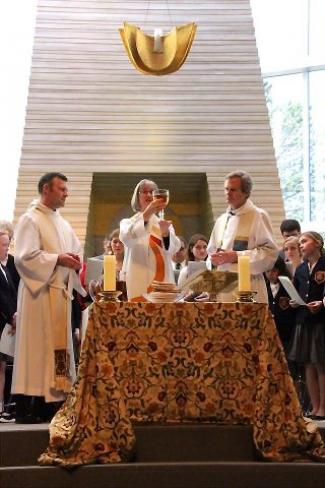 Susan Rainey Gamble Dankel/Trinity Church, Boston The congregation of Trinity Church, Boston worshiped at Temple Israel on April 21. in Copley Square, Boston, just yards from where the bombings occurred near the marathon's finish line, is still off-limits because it is within the crime scene boundaries investigators have set. The FBI allowed church officials a half hour on April 20 to go inside to gather vestments and the wine and bread for Eucharist, according to one report.
 
The Temple Israel synagogue opened its doors to the congregation, which filled the 900-seat sanctuary. Rabbi Ronne Friedman told CNN that the synagogue was honored to host Trinity in an hour of need. "It was beautiful, moving," he said. "And it was a reminder of the deep bonds that exist between us. It reminded us all that our proximity is not just geographical.
 
"After the trauma of the past week, we are in proximate relationship with one another spiritually and psychologically. I think we all very much felt it was one Boston."
 
The Rev. Samuel T. Lloyd III, Trinity's priest-in-charge, prayed for those who were slain "and for those who must rebuild their lives without the legs that they ran and walked on last week," Yahoo News reported.
 
"So where is God when the terrorists do their work?" Lloyd asked. "God is there, holding us and sustaining us. God is in the pain the victims are suffering, and the healing that will go on. God is with us as we try still to build a just world, a world where there will not be terrorists doing their terrible damage."
 
Lloyd was among those priests and pastors who shared with Time magazine their thoughts about preaching on the Sunday after the six extraordinary days in Boston. He wrote that people had to name what the bombers tried to do to them and "name the way that has touched our spirits, and then talk about everything we are gathered to do on a Sunday, to care for each other, to remember the grace and mercy at the heart of everything day by day, and claiming the call to live that here and now. All of that is our answer to the terrorists' efforts to undermine the fabric of our lives."
 
The service at the Cathedral Church of St. Paul near Boston Common included a prayer to the "Lord Christ, Risen Victim," who "even on the cross you prayed for the forgiveness of those who murdered you." The prayer in part asked that Christ would "remind us to pray for those who persecute us. Keep us aligned with your justice and not our own. Teach us to undo the cycles of violence and retribution and give us courage to act on our faith."
 
And, in London on April 20, the Rev. Jacqueline Cameron of the Diocese of Chicago preached for the London Marathon Dedication Service held at All Hallows by the Tower. The next day Cameron ran in the London Marathon for the second time and in her 14th marathon overall.
 
The London event attracted much attention coming as it did six days after the attack in Boston and, as in Boston, many runners ran with pledges of support for various charities.
 
"The potential healing power of events such as the London Marathon is at least as staggering as the power of violence," Cameron said during her sermon. "We do need to remember pain. We do need to remember the suffering and the dead from Monday's bombing and from all of the acts of violence and destruction that pepper human history. But also we need to learn how not to be burdened by bitterness or poisoned by a desire for revenge. And one of the best ways to do that is to allow our pain to spur us to acts of courage, of joy, and of compassion."
 
–The Rev. Mary Frances Schjonberg, Episcopal News Service