In the days following the violence in Charlottesville, Va., and as news continued to develop about controversial plans for a rally on Boston Common on Saturday, Aug. 19, with various groups planning counter-actions in response, the Cathedral Church of St. Paul (138 Tremont Street) in Boston has announced that it will be open on Aug. 19 from 10 a.m. to 3 p.m. for an ongoing vigil for peace, with a midday Eucharist at noon in the nave. 
The cathedral church's Sproat Hall will also be open throughout this period for hospitality and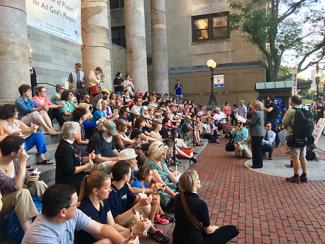 Bill Parnell The Rev. Nancy Gossling leads prayer on the steps of the Cathedral Church of St. Paul on the Sunday evening following violence in Charlottesville, Va. peaceful conversations.  All are welcome.
As a gathering opportunity prior to the weekend, the Greater Boston Interfaith Organization will host an "Interfaith Gathering of Unity, Love and Strength" on Friday, Aug. 18 at 5 p.m. at Temple Israel of Boston.  All clergy will be invited to stand together on the bima (raised platform). At 6 p.m., Temple Israel invites the interfaith community to join for "A Sabbath of Love and Light," a Shabbat worship experience open to all, devoted to the values of justice and compassion. This is intended as a time to be together with all who wish to counter messages of hatred by kindling the light of compassion and human dignity for all.
Additionally, the bishops of the Diocese of Massachusetts have commended to diocesan clergy a joint statement from Boston-area religious leaders, coordinated through the Massachusetts Council of Churches and the Greater Boston Interfaith Organization.  The full statement is available here.