The Very Rev. John P. (Jep) Streit Jr., the dean of the Cathedral Church of St. Paul in Boston since 1995, announced on Sept. 25 his plan to retire in February 2017.

"I am grateful to have served here for such a long, good time, so much has happened. I am very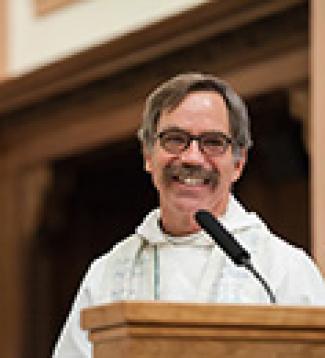 Matthew Cavanaugh The Very Rev. Jep Streit proud of how we have lived into Bishop Lawrence's vision of being a House of Prayer for all people and of course that work will continue," Streit said in his announcement.

The completion last year of significant renovations to the cathedral church, together with the merger of the cathedral congregation with that of the now-closed Church of St. John the Evangelist in Boston, make this a good time for new clergy leadership, he said. 
"We have, all of us, worked together to accomplish this and so are in a good place for what is next.  None of this has been easy, but all of it has happened with God's help and the considerable grace and goodwill of everyone, for which I am so thankful," Streit said.

He announced that the Rev. Canon Dr. Katharine Black, the former rector of St. John's who has served as the canon for liturgies at the cathedral church since the merger, will also end her tenure early in the new year.

"Opportunities for full recognition of these two committed servants lie ahead," Bishop Alan M. Gates said in a Sept. 26 message to the diocesan community.  "For now, we offer our deepest respect and gratitude for their leadership which yet continues."

An interim dean will be appointed to serve during the transition, with a new dean to be named after a period of discernment and consultation, Gates said. 

His message to the diocesan community and Streit's announcement letter follow.

#  #  #

Sept. 26, 2016

Dear People of the Diocese of Massachusetts,

The Cathedral Church of St. Paul occupies a unique and central place in our life as a diocese.  Accordingly, important news in the life of our Cathedral is significant for all of us.

Yesterday at the Cathedral the Very Rev. Jep Streit announced that he will retire from his position as Dean in February of 2017.  His letter to the congregation follows.  Jep has led the Cathedral congregation faithfully since 1995, an exceptional tenure encompassing times of significant change.

In addition, the Rev. Canon Dr. Katharine Black, Canon for Liturgies at the Cathedral, will conclude her tenure early in the new year.  Katharine served with heartfelt devotion as the final Rector of the Church of St. John the Evangelist, Bowdoin Street, and has been instrumental in affecting the fruitful merger of the two congregations.

Opportunities for full recognition of these two committed servants lie ahead.  For now, we offer our deepest respect and gratitude for their leadership which yet continues.

Prior to the Dean's retirement I will announce the appointment of an Interim Dean to lead the Cathedral during its transition.  My subsequent appointment of a new Dean will be made after a time of discernment and consultation with the Cathedral Chapter and the several worshiping congregations of the Cathedral. 

We greet the prospect of a new era in the life of our Cathedral with confidence, certain that it will build upon the firm foundation established by those who have brought it to this day.

Yours in Christ,

The Rt. Rev. Alan M. Gates

#  #  #

Sept. 25, 2016

Dear Cathedral Friends,

I'm writing to share some important news. After serving God with you as Dean for over 21 years it seems clear to me that now is a good time in my life and in the life of our Cathedral for me to retire. This decision feels both right and wrenching; so much of my life and ministry has happened here, it is not easy to imagine leaving.

But I'm excited about what lies ahead.  Sue and I are planning eventually to move back to the home and farm she has in Greenfield, N.H.  I look forward to more time for prayer, reading, writing and study but also the physical work that will be required to maintain that property.  It will be an entirely different life style for me, which feels both exciting and challenging, exactly what I would hope for the next phase of my life.

I am grateful to have served here for such a long, good time, so much has happened. I am very proud of how we have lived into Bishop Lawrence's vision of being a House of Prayer for all people and of course that work will continue.  My last Sunday here will be Feb. 19, 2017.  On that morning I would like to host a thank you gathering after church for you all, who have been so gracious and faithful, willing to take risks and open to change.  I also hope to host a gathering the day before to thank the wider diocese.  I've lived my entire priesthood in this diocese, have been formed and nurtured here for 37 years and want to give back some small fraction of the grace I have received.

This will be a good time in the life of our Cathedral for new clergy leadership, with new ideas and energy.  The construction is finished, our community is well along in our merger, we've managed the sale and disposition of the St. John's property.  We have, all of us, worked together to accomplish this and so are in a good place for what is next.  None of this has been easy, but all of it has happened with God's help and the considerable grace and goodwill of everyone, for which I am so thankful. 

The Rev. Canon Dr. Katharine Black will also be ending her tenure at the Cathedral in January. She has been a good colleague and friend of me and the Cathedral for decades, and her leadership during our renovations and merger has been significant.  We will celebrate and honor her ministry at St. John's and here at our Cathedral and will let everyone know when plans are set.

I've discussed all this with Bishop Gates, who could not be more helpful and supportive.  Tomorrow he will share this announcement with the wider diocesan community.  It is the bishop's intention to name an Interim Dean prior to my retirement, with some overlap with me so the transition can be as smooth as possible.

I am excited by what lies ahead, for me, for you and our Cathedral.  There is so much promise for us all, and I believe and trust God will continue to be with us as we move into the new places and ministries God is inviting us.

With my gratitude and love,

Jep