Tinka Perry describes herself as someone with "passion for justice and outreach," and as the newly appointed diocesan representative for Episcopal Relief & Development, she plans to channel some of that passion into connecting eastern Massachusetts Episcopalians with the organization's mission of "healing a hurting world."
She's starting with Christmas presents and coffee.

"December is a perfect time of year to get involved with Episcopal Relief & Development by doing some alternative shopping through their online Gifts for Life catalog," she said in a phone interview.  Shoppers can choose from a range of public health and poverty-alleviating projects and designate their donations in honor of friends and family--$175 for a community garden, for example, or $85 for a goat.  Mosquito nets to help prevent malaria are $12 each.
Perry also is recommending Bishops Blend, the fair-trade coffee that Episcopal Relief & Development sells online.  "I'd like to see every cup of coffee at every parish coffee hour supporting Episcopal Relief & Development," she said.
Bishop M. Thomas Shaw, SSJE announced Perry's appointment at Diocesan Convention in November.  She is a member of the Church of St. John the Evangelist in Mansfield, where she is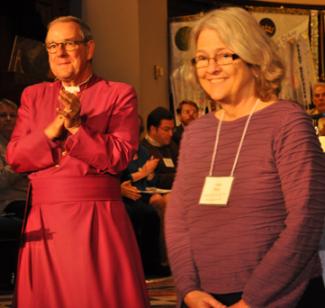 Katie Ernst Bishop Shaw introduces Tinka Perry at Diocesan Convention in November 2012. the outreach coordinator.  "I have a Master of Divinity degree from Andover Newton Theological School, where a class on peace and justice taught me that justice is much more than someone being punished for a wrongdoing; food and job equity are also justice issues.  So Episcopal Relief & Development gives me a chance to do my part to raise awareness around our diocese as I go out to speak at our parishes," she said.
Perry became enthusiastic about Episcopal Relief & Development's work, she said, when she had the chance to see the results of it firsthand during a trip to Ghana earlier this year.  "I was so impressed by the gratitude and the joy that was part of the giving and the receiving that was experienced.  It was absolutely awesome, in the true sense of that word," she said.
Episcopal Relief & Development provides both disaster response and support for long-term projects that address poverty, hunger, disease and economic development around the world.  It was first established in 1940 as the Presiding Bishop's Fund for World Relief to help refugees fleeing Europe during World War II.  In 2000, the organization changed its name to emphasize its emergency relief efforts as well as its growing focus on public health and economic development.  It currently has projects in 40 countries in addition to the U.S.
Perry said she welcomes invitations to speak to groups and congregations about Episcopal Relief & Development and can be reached at tinkapb@aol.com.