From Norwood to Newburyport and Milton to Marblehead, Episcopalians in more than 40 parishes partnered this summer to make it a safe one for 530 Boston children and youth living in violence "hot spots."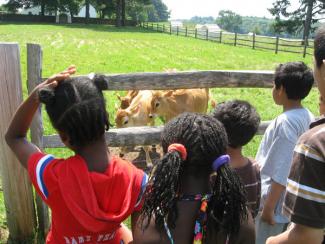 Courtesy Kay Evans B-SAFE Campers at a Farm They all came together in the embrace of B-SAFE (short for Bishop's Summer Academic and Fun Enrichment), a six-week summer program hosted at six Boston Episcopal church and school sites.  B-SAFE provides youth with supervision, a safe place to spend their summer days and a full schedule of academic and cultural activities, all with the help of volunteers from suburban Episcopal churches who make and serve lunches and snacks, read books with the kids for half an hour every day and organize Friday field trips to beaches, farms, parks and museums. 
Volunteers from the Parish of the Epiphany in Winchester, which sponsored two weeks of B-SAFE this summer, made 1,010 lunches, according to Betty Walsh, writing in that parish's "Three Crowns" newsletter. 
St. Paul's Church in Newburyport collected books to give to the Chelsea children they hosted for an Aug. 8 "Crazy Eights Day" of activities and nature hikes at Moseley Woods.
St. Andrew's Church in Marblehead took children to Winter Island in Salem for a picnic lunch and a chilly ocean swim.
The generosity and enthusiasm generated among these volunteers—more than 700 of them—were nothing short of "amazing," according to the Rev. Timothy Crellin, Vicar of St. Stephen's Church in Boston, out of which B-SAFE has grown. 
"More important still were the relationships that were built across barriers that normally separate people, showing what is possible and bringing us perhaps a step closer to the Kingdom," Crellin said. 
With five city churches providing facilities and 40-some suburban ones sending volunteers, Crellin noted, more than one quarter of the diocese's congregations was involved directly in making B-SAFE happen this summer.  And, B-SAFE provided 90 teens with summer jobs and their own program of training and support.
After six weeks in the city, more than 100 of the older children in the program spent four days and three nights at the diocese's Barbara C. Harris Camp and Conference Center in Greenfield, N.H.  "This was a great success, and we hope to expand on it in the future," Crellin said.
All this started modestly in 2000 as a neighborhood anti-violence program at St. Stephen's Church for about 30 youth, led by Crellin, and later with the support of the Rev. Liz Steinhauser, who joined the staff in 2003. Their visionary efforts—with Bishop Tom Shaw's support in response to a challenge from Boston's mayor, Tom Menino, that churches get involved in the effort to reduce youth violence in the city—now reach children and youth in Boston's South End, Roxbury, Dorchester, Mattapan, Chelsea and Jamaica Plain neighborhoods, as well as Lynn through a parallel program.  
"As I look back on this past summer," the Rev. Sam Rodman wrote this month in a newsletter to his parishioners at St. Michael's Church in Milton, "without a doubt one of the highlights has been our participation in the B-SAFE program."
St. Michael's, in partnership with the neighboring Church of Our Saviour, has been a part of B-SAFE for three years, two of them at St. Mary's Church in Dorchester and this summer at the Church of the Holy Spirit in Mattapan.
"For many of us who have read about the increasing violence on the streets of Boston, especially among our young people, this program became a way to respond," Rodman said.  "We offered our care, our time, ourselves and our gifts of love, along with our prayers that these efforts will translate into a safety net for these children in the years to come."