This year's Diocesan Convention is being called to embrace brave change as it considers a proposed new mission strategy for the Episcopal Church in eastern Massachusetts.
Clergy and delegates representing the congregations of the diocese will gather for the annual event Friday-Saturday, Nov. 4-5 at the Holiday Inn in Mansfield. 
In addition to its mission strategy deliberations, the convention will consider resolutions on civil discourse, peacemaking and affordable housing, vote on a proposed $9.2-million budget for 2017 and elect deputies to the Episcopal Church's 2018 General Convention.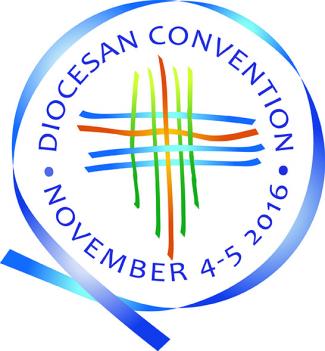 A live Webcast of convention proceedings is planned via www.diomass.org.
Mission strategy
A significant focus of the convention will be the proposed new diocesan mission strategy.   Design, listening and drafting teams have been at work successively since May of 2015 to craft a new mission strategy to guide the shared ministry of the diocese and the allocation of diocesan resources for at least the next three years. 
The proposed strategy calls on the diocesan community to "embrace brave change" by reimagining its congregations, building relationships and engaging with the world, and it asks for commitment to numerous recommended goals and initial actions in each of the three thematic categories.  (Find the proposed mission strategy and more information about the development process here.)
"The proposed mission strategy reflects the hopes for the future heard from around our diocese, and it calls for initial actions to set us on a path toward realizing those dreams," the drafting team writes in its report to the convention.  "Many questions remain, including how we are going to do this work together and how we will find the resources to do it.  It will take time, thoughtful conversation and prayerful discernment for us to transform the life of our diocese."
This fall the bishops and Diocesan Council will appoint a 17-member Implementation Organizing Team to carry forward the work of actualizing the new mission strategy once it is approved by the convention.
Budget
The convention also will vote on the proposed $9.2-million diocesan budget for 2017.  It includes $7.1 million in core revenues and expenses and $2.1 million in supplemental ones. 
The proposed 2017 budget "generally continues program expenses" according to current mission priorities, but does include "funds intended to cover start-up expenses for implementing elements of the new mission strategy," the diocesan treasurer, Lisa Garcia, and the Budget Committee chair, the Rev. Stephen Voysey, say in a letter that accompanies the proposed budget.  Mission strategy start-up funds, they note, "are available to Diocesan Council to be directed as needs for such implementation arise during 2017."  
The proposed 2017 diocesan budget is available here.
Resolutions
Among its other business, the convention will consider four proposed resolutions, two arising from the tenor of this year's election season, another on peace building and one on affordable housing.
One of the election season resolutions calls for civility in political conversation, condemning "actions of politicians and political candidates that cause vitriolic division between communities," and it invites neighboring dioceses take a similar stance.  A second resolution calls for reconciliation following the divisive rhetoric of the current presidential election, urges parishes to engage in the study of conflict resolution and invites other dioceses to make a similar call for healing and reconciliation following the election.
A third resolution calls for continued support for the diocese's Jorge Fuentes Antiviolence Task Force and its B-PEACE for Jorge campaign and urges congregations to engage in specific actions around gun law reform, support for youth jobs and partnerships with underresourced schools, public advocacy to end gun violence and ongoing conversations and programs to increase understanding about causes and consequences of gun violence, including the role of law enforcement.
A fourth proposed resolution encourages congregations to address the pressing need for affordable housing in their communities and to become familiar with and share information about the Community Preservation Act (CPA), a state program that, according to the Community Preservation Coalition Web site, "allows communities to create a local Community Preservation Fund for open space protection, historic preservation, affordable housing and outdoor recreation," with preservation monies raised locally through a property tax levy surcharge.  A CPA referendum for Boston will be on the ballot on Nov. 8.  To date, 161 Massachusetts cities and towns have adopted the CPA.
Full texts of resolutions are available in the convention handbook, available here.
The convention will also hear a second reading to enact a change to Article 2 of the diocesan constitution, clarifying that all members of Diocesan Council are entitled to vote at the convention, and a first reading of three additional proposed amendments that would revise the constitution to more accurately reflect the current working policies and practices of the Diocesan Youth Council.

Elections
Diocesan Convention will elect four lay people and four ordained people to serve as deputies to the Episcopal Church's triennial General Convention, which takes place in July 2018 in Austin, Tex.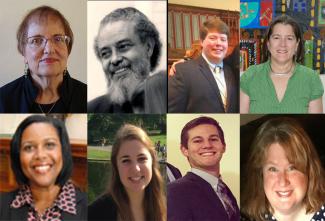 Lay nominees are (in random order as they will appear on the ballot):  (pictured above, top from left) Fredrica Harris Thompsett of Falmouth; Byron Rushing of St. John St. James Church in Roxbury; William C. Boyce of Grace Church in New Bedford; Betsy Ridge Madsen of the Church of the Advent in Boston; (bottom, from left) Angela McConney Scheepers of Trinity Church in Marshfield; Sarah Neumann of the Church of Our Redeemer in Lexington; Samuel J. Gould of St. Paul's Church in Brookline; and Julie Shea of St. John's Church in Winthrop.

Clerical nominees are (in random order as they will appear on the ballot):  (pictured above, from left) The Rev. Mally Ewing Lloyd of Christ Church in Plymouth; The Rev. Thomas J. Brown of the Parish of the Epiphany in Winchester; The Rev. Edwin Daniel Johnson of St. Mary's Church in Dorchester; The Rev. Karen B. Montagno, Director of Congregational Resources and Training on the diocesan staff; The Rev. Tim Schenck of the Parish of St. John the Evangelist in Hingham; The Rev. Karen Coleman of St. James's Church in Somerville; and The Rev. Jane Soyster Gould of St. Stephen's Church in Lynn.
Nominees running unopposed for various positions are Andrew Foss of Trinity Church in Boston for Board of Directors to the Barbara C. Harris Camp and Conference Center; Wayne Kennard of St. Peter's Church in Weston, Constance Perry of Trinity Church in Boston and the Rev. Dr. Matthew Cadwell of Emmanuel Church in Wakefield for Standing Committee; and Brian W. Litzenberger of Trinity Church in Concord, the Rev. Christopher Wendell of St. Paul's Church in Bedford, the Rev. Nancy Gossling and the Rev. Karen Coleman of St. James's Church in Somerville for the Disciplinary Board.
Also running unopposed are Jennifer Hopcroft of the Cathedral Church of St. Paul in Boston and the Rev. Patrick Ward of Trinity Church in Boston for Cathedral Chapter; Elizabeth Westvold of St. Peter's Church in Weston for Trustees of Donations; Lisa Garcia of the Parish of the Epiphany in Winchester for diocesan treasurer; and Leon Brathwaite of St. Andrew's Church in Edgartown for secretary of the diocese.
Visit the Diocesan Convention 2016 Web page for more convention information.