With screens and banners hung, an altar built, carpets, candles and chairs placed, and hundreds of flowers arranged by dozens of hands in the days leading up to the occasion, it was liturgy—the work of God's people for the glory of God—that transformed Boston University's Agganis Arena from sporting to sacred space for the Sept. 13 consecration of the Rt. Rev. Alan M. Gates as the 16th bishop of the Diocese of Massachusetts.
The service was both celebratory and solemn, with colorful opening processions and the diversity of the Episcopal Church in eastern Massachusetts evident through the many voices, languages and musicians featured over the course of the two-and-a-half-hour service.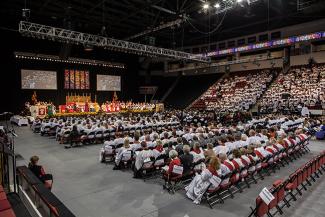 Matthew Cavanaugh Agganis Arena transformed for worship
A massed choir of 550-plus singers from nearly 75 parish choirs helped lead worship, and many in attendance cited the music—ranging from high Anglican choral tradition to gospel chorus, from the power of a brass ensemble to the ringing tones of handbells and steel drums—as a highlight of the day's experience.

But it was two of the service's quieter moments that were perhaps its most moving.

One was when the bishop-elect, wearing a simple white alb, knelt for the prayer of consecration and the 28 participating bishops placed their hands on his head, passing on episcopal authority in what is believed to be an unbroken line from Christ's apostles.  Gates is the 1,084th bishop in the American succession, according to the testimonials read at the service.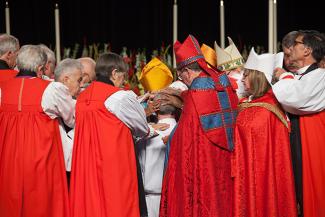 Matthew Cavanaugh The laying on of hands
A second poignant moment came just after Gates had been vested as a bishop, when the Rt. Rev. M. Thomas Shaw, SSJE, after 20 years as bishop of the Diocese of Massachusetts, passed the diocesan crozier to Gates and thus resigned his office.

Shaw called in January 2013 for the election of his successor; later that year, in May, he was diagnosed with brain cancer.  Usually recognized in the simple black habit of his religious order, Shaw was resplendent at the consecration—his final public service as an active bishop—fully vested in his vivid gold silk cope and mitre.

Earlier in the service, during the sermon, Shaw received a sustained ovation from the congregation when the preacher, the Rt. Rev. Mark Hollingsworth Jr., Bishop of the Diocese of Ohio, and formerly a priest in Massachusetts, addressed his colleague and friend directly.

"We thank God for you, Tom, and we thank you for the courageous, loving and faithful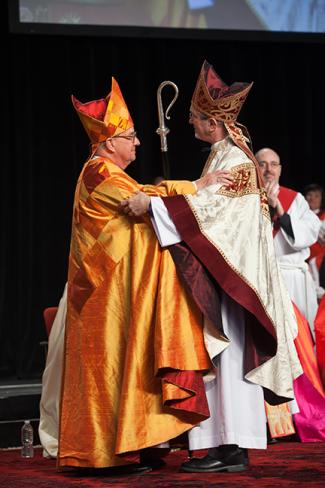 Matthew Cavanaugh Bishop Shaw greets Bishop Gates after handing off the diocesan crozier. companionship you have given us and that you continue to give us, as you model even now the surrender with Christ to the future that is God's," Hollingsworth said.  "In our every prayer, we are with you in this journey God has given us to share always."

Hollingsworth's sermon was a call to the church to be always forward-moving, even as it paused to celebrate where it has been.

"In every season of our lives, indeed in every moment, we are called into transition, called to change, not because we are deficient or inadequate, which of course we are, but because in the relentless provocation of divine love, God is always calling us forth into a deeper intimacy with God, urging us toward a greater godliness and providing for us endless possibility to change into the likeness of Christ," Hollingsworth said. 

"This is why we come together today, not to remain who we are, but to become what God dreams for us to be:  to be transformed, to be saved, rescued, and not for our own benefit, but saved to heal the world that God loves," he said.

Hollingsworth said the diocesan community would soon discover in its new bishop many qualities that well suit him "to be your companion as bishop diocesan," including "an unwavering fidelity to the body of Christ," an "exceptional homiletic gift and dedication to preaching" and a "pastoral heart."

"But you should know that while Alan is exceptionally suited to this new ministry, he is also, of course, essentially inadequate," Hollingsworth said.  "It is precisely through this new work that God will make something new of him, something more of him, something more holy of him.  That is true about each of us in our vocation to be Christian."
The Rt. Rev. Stephen T. Lane, Bishop of the Diocese of Maine, served as chief consecrator, taking the place of the Episcopal Church's presiding bishop, the Most Rev. Katharine Jefferts Schori, who was unable to attend because of a family memorial.
Just more than 4,000 tickets were distributed for the service, and there were 2,000 visitors to the diocesan Web site, where a live Webcast was available.  An offering of $13,736 was collected during the service for the new bishop's discretionary fund.

Gates gave his first sermon as bishop the following day at the Church of St. John the Evangelist in Boston, where the congregation of the Cathedral Church of St. Paul is worshiping while the cathedral church is undergoing renovations.  He then departed on Monday for Taiwan for the Sept. 17-23 meeting of the House of Bishops of the Episcopal Church.

Gates, 56, is the former rector of St. Paul's Church in Cleveland Heights, Ohio, where he served for 10 years.  He was elected bishop of the Diocese of Massachusetts at a special electing convention on April 5 at the Cathedral Church of St. Paul in Boston.

Prior to seminary he was a Russian language translator, researcher and intelligence analyst for the U.S. Department of Defense, including a tour of duty at the State Department.  He holds a Master of Divinity degree from Episcopal Divinity School in Cambridge, and was ordained to the priesthood in 1988.  He served congregations in the Episcopal dioceses of Massachusetts, Western Massachusetts and Chicago prior to his call to Ohio.  He and his spouse, Patricia J. Harvey, have two adult sons, Philip and Ethan.
--Tracy J. Sukraw
• Video from the consecration is available here.
• Find the consecration photo gallery here.
• The text of Bishop Hollingsworth's consecration sermon is available here.
• Video and text of Bishop Gates's Sept. 14 sermon are available here.