Episcopal City Mission marked a new day in its 172-year ministry as friends and supporters gathered June 14 for the organization's annual end-of-program-year celebration to welcome a new executive director and to honor individuals and groups engaged in urban social justice advocacy.
Instead of the traditional fundraising dinner, this year's event, held at the Cathedral Church of St. Paul in Boston, was a gospel-music-infused liturgical celebration.
The Rev. Arrington Chambliss, the new executive director of Episcopal City Mission (ECM), received a formal commissioning during the service, and exchanged blessings with the congregation.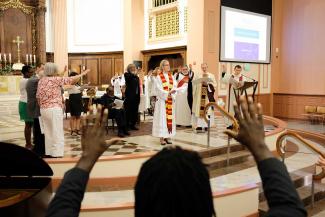 Matthew Cavanaugh New executive director, Arrington Chambliss, was commissioned at ECM's June 14 celebration.
Chambliss comes to ECM from Life Together, the young adult fellowship program in the Diocese of Massachusetts that she co-founded and directed for eight years.  She joined the ECM staff in April and is the first woman to lead the organization as executive director.

The evening's preacher, the Rev. Mariama White-Hammond of Bethel AME Church in Jamaica Plain, acknowledged heavy-heartedness amidst the evening's celebration, given the nation's ongoing epidemic of gun violence and its latest eruption last week in an Orlando, Fla., nightclub, where a gunman killed 50 people and injured as many others in what has been deemed the deadliest mass shooting in the U.S.

"It is sad not only because it happened but also because it is so predictable at this point, so predictable that we will mourn and wring our hands and ultimately do nothing to change the situation," White-Hammond said.

"In the midst of a time of sorrow and crisis, there is a word from the Lord," she said, found in the evening's Scripture lessons--a story from Hebrews characterizing King Ahab's greedy dealings with neighboring vineyard owner Naboth, and Jesus' recital, in the Gospel of Luke, of the prophet Isaiah's pronouncement:  "The Spirit of the Lord is upon me, because he has anointed me to bring good news to the poor.  He has sent me to proclaim release to the captives and recovery of sight to the blind, to let the oppressed go free, to proclaim the year of the Lord's favor."

"This is good news not just to the Naboths of the world but also good news to the Ahabs," she said.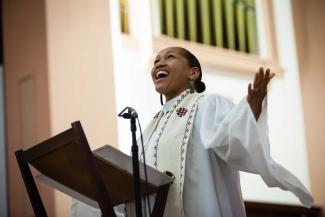 Matthew Cavanaugh
"I want to offer to you this evening that far too often those of us who have been victims of oppression take on the same sense of power and entitlement that we learned from our oppressors," she said, "and before you know it, in justification of our own oppression, we turn and oppress the person behind us or beside us," she said. 

She encouraged the congregation to examine individual complicity in oppression and to find ways to be agents of change.

"The word tonight is not just a word of comfort for those of us who imagine we are liberal and progressive and moving forward in the right way, but to remind ourselves that if we want to be part of the Jesus movement, the movement that calls us to proclaim freedom, we must be willing to be uncomfortable with injustice."

"I want us to think tonight about what it would take to radically shift our country, and our world, in a different direction," she said, away from "not just the violence we see among people but also the violence that we are inflicting on our planet."

She called for reimagination.

"We need to reimagine what it means to live in the city when we have luxury empty apartments being built downtown while people are right outside with no place to sleep.  We need to reimagine our society so we ask why children can be shot in front of our high schools and we start asking what we need to do to keep guns out of the hands" of those who would harm others, she said.

"If we want to walk into a new future we need to be radical in our love and radical in our justice," White-Hammond said.
During the service former and current board members presented ECM's annual social justice awards to Ruth Campbell of the Church of the Holy Spirit in Orleans, for her ministry as an advocate for children and the program she founded to provide summer meals for hungry children on Cape Cod; to Carlos Saavedra Diaz for his leadership in organizing the Student Immigrant Movement and the United We Dream Network to secure access to higher education and immigrant rights for undocumented youth; and to a group of creation care advocates working in the diocese in support of "green" grants for church building improvements, fossil fuel divestment and various public awareness efforts.
Lucena Daley, who will retire at year's end after serving 34 years as ECM's administrator, was acknowledged during the service, and answered a sustained standing ovation with a rallying cry of her own, saying, "There's something about this organization called ECM that gets into your blood, into your heart." 

"We don't want ECM to be a well-kept secret," Daley said.  "Get to know ECM.  We want you to be with us in this fight for justice."

On display throughout the evening was a gallery featuring the work of community organizations which receive grant funding from ECM, including churches engaged in their neighborhoods, leadership development training programs for young adults and church leaders, grassroots community organizers and faith-based social justice efforts.
--Tracy J. Sukraw