The B-PEACE for Jorge campaign invites the diocesan community to join Bishop Alan M. Gates and other leaders in the diocese at the Mother's Day Walk for Peace on Sunday, May 14. 
The walk is sponsored by the Louis D. Brown Peace Institute and is designed to raise awareness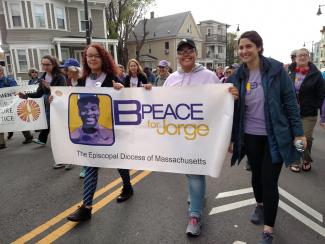 Courtesy Photo about the scourge of violence, to support families who are grieving and to raise money for the institute's peace-building efforts. 
The Diocese of Massachusetts and its B-PEACE campaign have had a strong team at the walk since 2013, and organizers hope many will join the walk to make 2017 another year when Episcopalians are witnessing together for peace, building relationships and celebrating mothers and families.
Walkers joining B-PEACE can start off together at 8:30 a.m. from Town Field Park (1520 Dorchester Avenue) in Dorchester, or join the group at the second entry point at 9:45 a.m. at Madison Park High School (75 Malcolm X Boulevard, Roxbury Crossing).  The walk will conclude with a peace rally at Boston City Hall, 11 a.m.-12 p.m.
Walkers can get ready by signing up, seeking pledges and spreading the word.
Register with the B-PEACE for Jorge team and find more information about the walk at www.mothersdaywalk4peace.org.
Questions may be directed to B-PEACE organizer Maureen Burns at 847-220-3012  or maureen@ssypboston.org.
Courtesy Photo
Updated: April 11, 2017