Allegra Robinson is a member of St. John's Church in Franklin, and will be serving as an Official Youth Presence delegate at the 2015 General Convention, taking place in Salt Lake City June 25-July 3.  Two youth represent each of the Episcopal Church's provinces on the Official Youth Presence, established in 1982.  Members of the Official Youth Presence have seat and voice in the House of Deputies and participate in committee hearings and floor debates.  Allegra will be representing Province I (the seven New England dioceses) with Anna Foster, Diocese of Maine.
How did you become interested in being an Official Youth Presence delegate to the convention?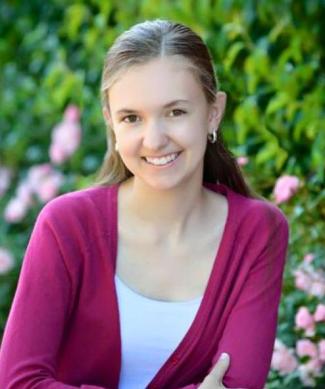 Courtesy Allegra Robinson I heard about the opportunity through [diocesan youth ministry director] H. Mark Smith. It sounded like an amazing opportunity to represent the youth of the church, which is one aspect of church leadership that I immensely enjoy being a part of.
What are some other Episcopal Church activities you have been involved with?
Within my church, I do essentially everything a 17-year-old girl is allowed to do! I am currently serving my second term as the youth delegate on the vestry. I am a senior leader within my youth group, and I assist with the Children's Choir. Not only am I an acolyte and crucifer, I help run the training program for anyone interested in becoming an acolyte. I usher, read, volunteer in the nursery, and I am a chalice bearer/LEM. I have been an active member of the youth group for five years. On a diocesan level, I was accepted into the Diocesan Youth Council and I am the representative from the Taunton River Deanery. My participation in this program has made me a larger role model for the youth at my church and other churches in the deanery. As the Taunton River Deanery's youth delegate, I had voice and vote at the Diocesan Convention in November, which was a great experience for me!
What are some issues or resolutions you will be particularly interested in at General Convention?
I am excited about a lot of the issues, but, as of right now, the resolutions that stand out to me are the ones surrounding the issues of marriage, environmental awareness and the possibility of updating our Book of Common Prayer.
Some readers might be surprised to hear that there are actually three young women from our diocese who are taking two weeks of their summer to be part of the General Convention of the Episcopal Church. Why is being an Official Youth Presence delegate important to you as a young Episcopalian?
Personally, I am thrilled to take the opportunity to prove to people that youth members are not the future of the church--we are the church now. When I try to figure out what God wants from me and how He wants me to best serve Him and act on my faith, somehow I always get back to youth ministry. Although your faith changes as you grow, everyone develops faith at a very young age and I think it is extremely important to give everyone the opportunity and environment to deepen their faith at their own pace. So, as a delegate, I take my role as a representative of the youth of the church very seriously.
What would you say to encourage other young people to get involved with church governance?
Definitely get involved. Look for leadership positions. Do not be afraid to speak up for what you believe in. My limited time working with the governance of the church has already made such a large impact on my personal life and my leadership skills and I would encourage everyone to take a step, even a small step, to get involved.
Outside of church, what kinds of activities and hobbies do you enjoy?
I am a huge part of the Best Buddies program, an organization that works to integrate people with special needs into the general community, in my school. I have been a part of this program for seven years, and it is probably my favorite thing to be a part of outside of church. I enjoy hanging out with friends and watching movies. I candlepin bowl competitively, and I've worked in the bowling alley for three years. I also tutor, babysit and volunteer in the public library at the afterschool student assistance center and craft program.
Do you have plans for after graduating from high school?
I will be attending Framingham State University with a major in Spanish and a minor in secondary education. I can't wait! I am hoping to travel and study abroad my sophomore or junior year.
How would you like to continue your involvement with the church as you go from the "youth" to "young adult" phase of your life?
I am very disappointed that I have to say goodbye to a lot of the youth programs that I have been a part of within my church and diocese, like Diocesan Youth Council. However, I know that there are plenty of opportunities that will arise in my future to remain involved in the church and I cannot wait to be a part of them! I am really excited to take on more leadership positions with the youth programs in the church, which is a ministry I am very attached to.
--Ellen Stuart Kittle
Read about two more young leaders attending General Convention from Massachusetts, here, and learn more about the Diocese of Massachusetts at General Convention here.