The first diocesan green loan was awarded to St. John's Church in Charlestown this summer, and the parish is now close to completing a major renovation that will make the church buildings more energy efficient.
The loan of $100,000 is being used to finance the installation of a new heating system, and is being offered at a 2.75 percent interest rate, a special low rate offered through the diocese's green loan program.  The loan repayments are anticipated to be equal to or only slightly higher than the church's savings on fuel.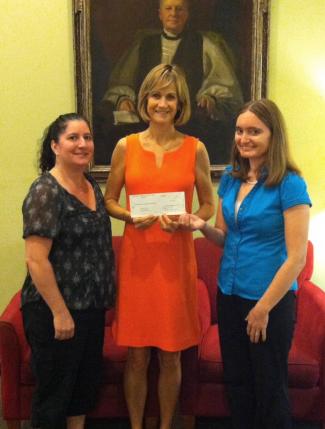 Ellen Stuart Kittle Melissa Giese of St. John's, Charlestown accepts the green loan check from diocesan staff members Dana Courtney (l) and Esther Powell (r).
"This first green loan is a great example of how congregations of all sizes and varying financial resources can take significant steps to reduce their carbon footprint," said Bishop Bud Cederholm, retired bishop suffragan and a champion of the new loan program. "The low interest and yearly pay-back of the loan based on energy savings makes it possible to do major green renovations without adding to yearly budget costs."   
"Receiving both a green grant and a green loan from the diocese not only enabled us to move forward with this project, but to grow spiritually," said the Rev. Thomas Mousin, Rector of St. John's. "Taking on such a large commitment has been an act of faith, and we are discovering again and again that as we step out in faith, God is providing the guidance and resources for us to fulfill that commitment."  
Last winter, St. John's was informed by its oil company that one of the four boilers in the two parish buildings was unlikely to last through the winter.  "We were fortunate that the old equipment did see us through one more heating season, but the need to solve that immediate problem led us to take more significant steps," Mousin said.  "The formation of a creation care team, an assessment of our entire heating system and the decision to switch from oil to gas and install an energy-efficient system all began with looking at one antiquated boiler." 
St. John's used a diocesan green grant of $10,000 to finance the engineering study for the new heating system, according to Melissa Giese, a member of the St. John's creation care team. The installation of the heating system is being financed by the green loan and funds from the church's endowment. 
The new system will have two gas-fired boilers that will be centralized under the sanctuary and used to heat both the church and parish house. It is projected to save $8,385 in fuel costs over the course of the winter, according to the report prepared by Norian/Siani Engineering.  This represents a 59.2 percent savings, based on two years of the church's recorded oil consumption and local climate averages. The more efficient system will also reduce St. John's carbon emissions by almost 30,000 pounds of CO2. Because the new system burns natural gas rather than oil, it emits almost no sulfur dioxide (SO2), whereas the previous heating system released about 520 pounds of SO2 over the course of a winter.  SO2 is released by burning fossil fuels such as coal and oil, and it causes acid rain and aggravates respiratory and cardiovascular illnesses.
The new heating system will have major benefits in terms of cost and reducing carbon emissions, but the project also came out of discussions about how St. John's could make its space more available and welcoming to the community. 
"A group of us attended a  Partners for Sacred Places training, run by a nonprofit out of Philadelphia that helps faith-based organizations engage with their communities by offering their underutilized spaces to fulfill special needs," Giese said.  "In our brainstorming sessions around what we might do with our space, we were reminded of the foundational systems needed to support such a ministry.  Our heating system was on its last legs and we needed to solve this problem first."
Giese said that the more efficient heating system will help the church use its various spaces more effectively, and eventually may allow St. John's to make space available to the wider community.
"Our work on the heating system has made us more aware of ways that we can reduce our carbon footprint throughout the building," said Mousin. "The project has been a challenging one for us, but ultimately one that has deepened our faith, and our understanding of what it means be responsible stewards of what God has given us."
The green loan represents the next phase of the diocesan Creation Care Initiative, funded by the Together Now campaign. The initiative provides congregations with opportunities to make energy-efficient and environmentally sustainable improvements to their buildings in order to reduce their carbon footprint and resource consumption.  
"The green loan program is another way congregations can live into the Genesis Covenant, [introduced] at the 2010 Diocesan Convention, encouraging congregations and diocesan properties to reduce carbon emissions by 50 percent in 10 years," said Cederholm. 
The diocesan green grants program, which awarded its first grants in 2011, provides smaller amounts of money in the form of grants, which have been used for LED bulbs, community gardens and many other green projects at parishes throughout the diocese. 
St. John's new system is now currently on track to be completed by Oct. 15, according to Giese. On Sunday, Nov. 23, Cederholm will bless the new system, as St. John's begins a new season of environmental stewardship. 
To learn more about the green grants and loans program, and to explore the application process, visit the Creation Care Initiative page. 
--Ellen Stuart Kittle