Life is a pilgrimage, says the Rev. Tina Rathbone. The act of taking up a pilgrimage—spending time in prayer, silence and discussion, moving together towards a destination—is an outward manifestation of the inward journey everyone is on. 
In early October, a group of pilgrims walked from the Cathedral Church of St. Paul in downtown Boston to Emery House of the Society of St. John the Evangelist in West Newbury.  The pilgrims, both housed and unhoused, are all part of the MANNA homeless ministry at the cathedral. With the care of Rathbone, missioner and associate priest on the cathedral staff, the group traveled on foot for four days and 58 miles.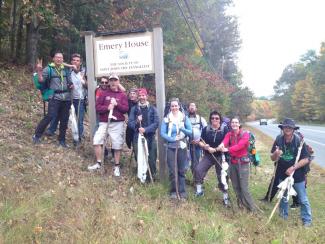 The pilgrims arrive at Emery House On the surface, a pilgrimage might seem simple: walking from point A to point B. But in this simple act, Rathbone says, anyone can find a deeper connection with God, one another and their own personal journey through life. 
"We're all on a pilgrimage, but most of the time we don't realize it," Rathbone said. "This is a way to become more and more intentional about living our lives as we want to live, and doing that in our bodies as well as our minds and our hearts."
This year there were a total of 14 walkers and 20 non-walking pilgrims. Additionally, all of the walking pilgrims had prayer partners. 
"It's a much broader community than just the walkers," said Rathbone. This is the third year of the walking pilgrimage, and the second year that there has been a non-walking pilgrimage. The non-walking pilgrims drive to Emery House for a retreat day, allowing anyone who is not able to walk long distances the opportunity to participate in the experience of pilgrimage. 
"The whole idea is that life is a pilgrimage and we're just making that manifest through this pilgrimage," said Rathbone. "And there's no reason why someone who can't walk 20 miles shouldn't enter into that intentional process of becoming a conscious pilgrim."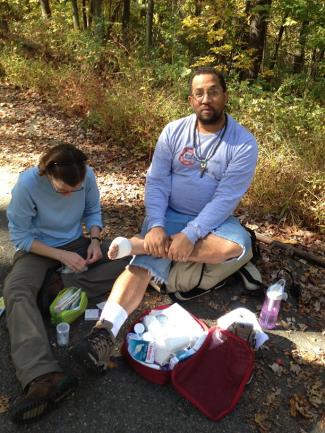 Pausing to soothe sore feet. The idea for the pilgrimage was planted three years ago during the Walk for Hunger, the Project Bread pledge walk that helps fund the cathedral's Monday Lunch Program.
"We field a team of mostly homeless walkers for the Walk for Hunger…on one of those walks a group of us at mile 18 realized that we were not wanting it to end, we wanted to keep walking," said Rathbone. 
"I saw three of my fellow walkers helping each other finish the journey and I was so moved by how incredibly beautiful that was, and how this really was church, this is what church is supposed to be. So in our MANNA leadership team we dreamed it up and created it and figured it out…we're still figuring it out." 
The pilgrims began their journey at the Cathedral Church of St. Paul in Boston, where they had lunch and celebrated Eucharist before setting out. The churches that hosted pilgrims along the way were First Church in Swampscott (UCC), Trinity Church in Topsfield, Trinity Church in Haverhill and the final destination, Emery House of the Society of St. John the Evangelist in West Newbury. 
Rathbone said that the experience has deepened and intensified since the first pilgrimage. This experience comes not only from the growing relationships between the pilgrims, but also between the pilgrims and the churches that welcome them. 
"By now we know each other as faith communities, so it's a homecoming each night as we arrive at these churches," Rathbone said. "It's a homecoming of these very different faith communities that are joined by our faith. It's sort of what the church was invented for.  We really do feel like brother and sister congregations meeting and becoming one, and it's very, very beautiful."
"The welcomes keep getting better and better every year," said Paul Estes, one of the walking pilgrims. "Arriving [at the churches] was like a family reunion."  
"At First Church, on the sign out front they had written 'Welcome Home Pilgrims,'" said Richard Lizine, another walking pilgrim. "That was really emotional for me." 
During the pilgrimage, the group set aside periods of time for silence, meditation, prayer and discussion.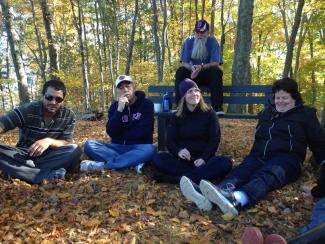 Pilgrims rest and talk on the bluff
"We have periods where we sit together on the bluff or in the woods, often under a cross, and discuss the pilgrimage and what it means to us, what we mean to each other, and how God has become manifest in our community through our community," said Rathbone, "So there's lots of time for digesting, as well as prayer, and laughter—there's lots of laughter."
"It was very emotional this year, more than in the past," said Estes. "You get a deeper understanding of what you're doing. The times of silence were a lot deeper and lasted longer." 
Rathbone said that the struggles of coming together as a community, as well as meeting the physical challenge, are part of what gives life to incredible beauty and love. 
"It's like a sacrament," she said. "An outward and physical sign of an inward and invisible grace and reality; making manifest to the wider world what is going on inside of us all the time, and doing it together. And we learn every single day that we can't do it without every single one of us." 
--Ellen Stuart
From The Pilgrim
Several of the pilgrims are members of the Black Seed Writers' Group, a group of writers from the homeless community in Boston. The group publishes The Pilgrim, a monthly collection of poetry and prose. Paul Estes, one of the writers from the Black Seed Writers' Group, wrote this poem about his experience with the 2013 pilgrimage:
Pilgrimage 2013
by Paul Estes
Into blessed grace we journey, one after another
on our path along the side of the road.
Prayers of health, healing, well being,
for those with us, and those who stayed behind,
praying for us—our prayer partners.
Morning to evening, one church community to the next.
All pilgrims, each and every one, joined with us.
The body of Christ are we, walking and praying in blessed harmony,
My cheeks turn damp with tears of joy.
The love we feel, unmatched in its vastness, neverending.
No words can express the emotions we feel.
As we walk in prayer, God's love does heal.
We reach our goal, a lifetime of love, 'til we join with Abba, in heaven above.
Amen
You can sign-up for an annual print subscription of The Pilgrim with your gift of $25 on the Cathedral giving page. You must select "Monday Lunch Program" when you make your gift in order to be subscribed.