This summer's triennial General Convention of the Episcopal Church, held June 25-July 3 in Salt Lake City, will be remembered for its mountaintop moments:  

The historic and decisive election of a new presiding bishop, one whose "We are the Jesus movement now!" message resounded across the convention as a clear call to action.

The church's explicit extension of marriage equality for all after some 40 years of study, discussion and provisional allowances.

A triennial budget that reaches into reserves to fund new evangelism and racial reconciliation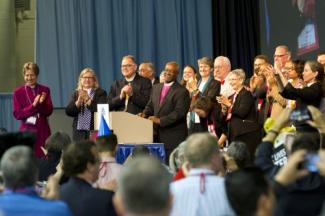 Cynthia Black for Episcopal News Service Presiding Bishop-elect Michael Curry of North Carolina speaks to a packed hall after deputies confirmed his election as the 27th presiding bishop of the Episcopal Church. initiatives, even as it reduces the income requested from individual dioceses so that more ministry money can, potentially, stay local.

Church structure and governance, prayer book and hymnal revision, creation care, socially responsible investment and numerous international and domestic social justice issues also made up the packed agenda that the convention took up during nine over-filled legislative days.  

"We think we are a people meant to participate in transforming this world towards something that looks more like something God had in mind when God created it, and it's a long way from that vision of wholeness so we've got plenty of work to do," Presiding Bishop Katharine Jefferts Schori said at an opening press conference on June 23.

At adjournment, 392 resolutions had been filed and acted upon.

The Diocese of Massachusetts was an active participant throughout the proceedings, with its bishops and deputies serving on legislative committees and in high profile leadership roles, and other Massachusetts Episcopalians by the dozens involved in advocacy and churchwide organizational work of all kinds.  

"It's bananas!" Massachusetts deputy Edwin Johnson was overheard saying, more than once, and by his enthusiasm, it was clear he meant that in a good way.

On the last day, new presiding bishop-elect Michael Curry preached a rallying sermon. "We are the Jesus movement now!" he said, and gave the convention a one-word commission: "Go!"
Common ground against gun violence
At the opening news conference, the Rev. Gay Clark Jennings, President of the House of Deputies, noted that the church was convening in the wake of the killings of nine black people at a Charleston, S.C., church. 

Convention is a place, Jennings said, where "Episcopalians have the ability not only to proclaim that black lives matter, but also to take concrete action toward ending racism and achieving God's dream of…racial reconciliation and ending injustice."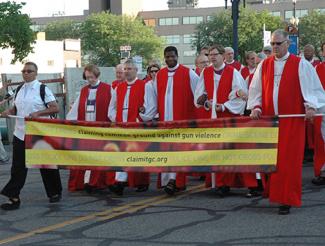 Tracy J. Sukraw Leading the march: Deacon Gayle Fischer-Stewart (Washington) and bishops Carolyn Tanner Irish (retired, Utah), Ian Douglas (Connecticut), Eugene Sutton (Maryland), Brian Prior (Minnesota) and Ed Konieczny (Oklahoma).
Bishops Against Gun Violence, a coalition of about 60 Episcopal Church bishops, sponsored a prayerful early-morning march under a hot sun through downtown Salt Lake City on Sunday, June 28. The procession of as many as 1,500 people began at the Salt Palace Convention Center and made a stop in nearby Pioneer Park for personal testimonies urging people to find common ground for efforts to end gun violence. 
Bishop Michael Curry, elected presiding bishop the previous day, gave an impassioned speech at the end of the march, as did other gun violence victims. About two dozen people attending General Convention from the Diocese of Massachusetts made a visible witness at the march in their purple B-PEACE T-shirts.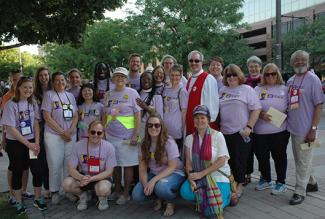 Tracy J. Sukraw Massachusetts in B-PEACE purple at the march against gun violence
The convention adopted resolutions on handgun purchaser licensing (B008) and advocating federal, state and local laws aimed at decreasing gun violence (C005).
Historic election
First person of color elected presiding bishop, first time a presiding bishop has been elected on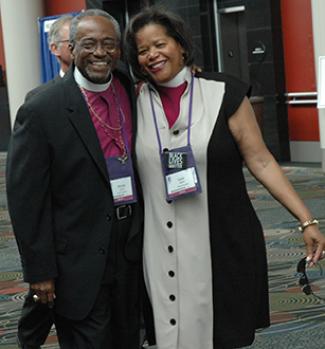 Tracy J. Sukraw On their way to the election: Bishop Michael B. Curry with Bishop Gayle E. Harris the first ballot–the historic and decisive election on June 27 of Bishop Michael Curry of North Carolina was a highlight for many convention-goers. 

"I think it's a great day for the church. In a year when we've been so discouraged by signs of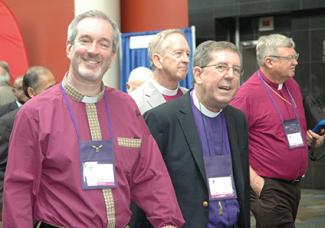 Tracy J. Sukraw Bishops make their way to St. Mark's Cathedral for the presiding bishop election on June 27: Bishop Alan M. Gates of Massachusetts with Bishop George Councell, retired of New Jersey. continuing brokenness in our church and in our society, it's a sign of hope and unity. Thanks be to God," Bishop Alan M. Gates of Massachusetts said after returning to the convention center from St. Mark's Cathedral, where, he said, the atmosphere during the election had been  "extraordinarily spiritual."

"I'm not sure people realize–I certainly didn't before being a part of it–the extent to which the bishops really do understand balloting in the context of prayer. We gathered, we had protracted times of silence, of prayer, a lot of singing. We pretty much sang every Holy Spirit hymn in the hymnal. After the election, we sang 'Lift Every Voice and Sing' and we sang it with gusto," Gates said.
Read more Massachusetts reactions, collected right after the election, here. Find more election coverage here, and watch a video interview here.
Curry begins his nine-year term on Nov. 1.
A jubilation
During a June 30 joint session on mission, deputies and bishops took time to honor Presiding Bishop Katharine Jefferts Schori as she nears the end of her nine-year term.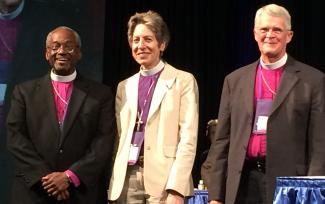 Billy Boyce A jubilation of primates, past, present and future: Presiding Bishop-elect Michael Curry, Presiding Bishop Katharine Jefferts Schori and former presiding bishop Frank T. Griswold III

There was a video tribute, remarks from former presiding bishop, the Rt. Rev. Frank T. Griswold III, and three prolonged standing ovations. Broadcast journalist Ray Suarez, a member of St. Columba's Church in Washington, D.C., emceed the tribute.

"The bishop I've seen in action over these nine years has opened the arms of the church in radical welcome," he said, "and said things that needed saying but are sometimes kind of hard to hear, but always with compassion in its truest Latin sense, being willing to share the sufferings of those she was chosen to lead and sharing their joys, too," Suarez said.

The tribute ended with what Suarez called "a jubilation of primates" past, present and future—Griswold, Jefferts Schori and Presiding Bishop-elect Michael Curry gathered on stage to more cheers and applause.
Major milestones celebrated
While the bishops were sequestered at the Cathedral Church of St. Mark for the presiding bishop election, the House of Deputies threw a 230th birthday party for itself.
As past leaders were honored, there was a video of current House of Deputies vice president Byron Rushing interviewing Dr. Charles Willie of Massachusetts, former house vice president.  Deputies responded with a standing ovation, and the House of Deputies president, the Rev. Gay Clark Jennings, presented Willie with a medal.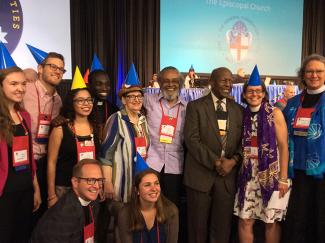 Courtesy Photo: Thomas J. Brown Celebrating 230 years plus Dr. Willie: Massachusetts deputies celebrate with Dr. Willie (third from right)
"Dr. Willie is a groundbreaking African-American educator, the first African-American professor at Syracuse University, a distinguished public servant who worked with President John F. Kennedy and President Jimmy Carter and a leader of desegregation," Jennings said. As vice president of the House of Deputies he preached at the 1974 ordination of the "Philadelphia 11," the first women ordained priests in the Episcopal Church. "When the bishops failed to uphold that ordination and give equal rights to women, he resigned his position in protest. Dr. Willie, we have not forgotten."
That same evening, Episcopal Relief & Development threw a party to celebrate its 75th anniversary, marked over the course of the past year by an online weekly storytelling project and a traveling photo exhibit depicting the people and places around the world touched by Episcopal Relief & Development's disaster relief, public health and economic development ministries.
A $7.5-million anniversary fundraising campaign, launched last September, is 78 percent complete, according to Episcopal Relief & Development president Robert Radtke, who said he has every expectation that the goal will be exceeded by year's end.
"It's a thrill to be here in Salt Lake City and to have the opportunity, frankly, to say thank you to the people of the Episcopal Church for 75 years of incredibly generous support. It's been a wonderful sign of faith and commitment to God's mission in the world that we've thrived as we have for 75 years," Radtke said.  Read more about the celebration and new work that Episcopal Relief & Development has underway here.
Also elected
Massachusetts deputy Byron Rushing was re-elected, unopposed, for a second term as vice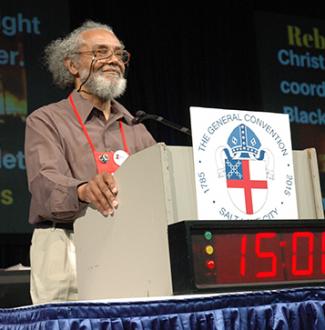 Tracy J. Sukraw Massachusetts deputy Byron Rushing was re-elected vice president of the House of Deputies for a second term. president of the House of Deputies. President Gay Clark Jennings noted that Rushing has served the house with distinction for 14 General Conventions and attended the 1970 convention as part of the youth presence. "We are so fortunate all of us in this house to have his wisdom and counsel, his great love, not only for Jesus but for the Episcopal Church," she said.
Also elected: The Rev. Mally Lloyd was elected to the Episcopal Church's Executive Council, the body that carries out the programs and policies adopted by the General Convention. The Rev. Thomas Brown was elected as a trustee to the Church Pension Fund. The trustees have a role in the governance and oversight of the Church Pension Group, including the Church Pension Fund and several affiliates. The Rev. Canon Katharine Black of the Cathedral Church of St. Paul in Boston was elected to the General Board of Examining Chaplains, which writes the annual General Ordination Examination (GOE) administered to candidates for ordination.
Marriage equality
The Supreme Court's June 26 decision on marriage equality came down just as General Convention deliberations were getting underway on whether or not to make changes to the Episcopal Church's marriage canon. 

Bishop Alan M. Gates and Bishop Gayle E. Harris of the Diocese of Massachusetts issued a statement on the morning of the Supreme Court's decision, saying:  "We greet with joy the Supreme Court's decision to uphold the right of same-sex couples to marry throughout the United States. This is a fundamental matter of equal treatment under the law, with profound implications for the ways in which couples and their families are supported in their life together by societal structures. We are deeply grateful that such equal treatment has now been affirmed by our nation's highest court."

Read more about reaction at General Convention to the Supreme Court decision and get a taste of the debate as it was in progress here. 

Ultimately the convention adopted resolutions streamlining the marriage canon and making its language gender neutral (A036), authorizing two new marriage rites with language appropriate for use by all couples (A054) and continuing the work of the Task Force on the Study of Marriage (A037). 
Twenty bishops who opposed the marriage equality resolutions issued a minority report, which the House of Bishops then acknowledged with a "mind of the house" statement titled "Communion Across Difference." 
Church structure
Numerous proposals for structural reform—many the result of three years of work by the Task Force for Reimagining the Church (TREC)—got a lot of discussion in the lead-up to General Convention, but a number of them, in the end, were rejected or referred for study. 

"It's possible that people are just TREC-ed out," Massachusetts deputy Fredrica Harris Thompsett, a member of TREC, said after one sparsely attended legislative hearing devoted to structure resolutions.

The convention made a constitutional allowance for ad hoc joint sessions between the House of Bishops and House of Deputies at General Convention (D008), but it called for more study on TREC's proposal for a unicameral governing body. It also voted to study the possible elimination of provinces (D011), into which the church's dioceses are currently organized geographically.

The convention changed some of the rules governing the Executive Committee (A004), which conducts the church's business between General Conventions, but it rejected a proposal to reduce the Executive Committee's size.  It did vote to reduce the church's standing commissions from a total of 14 to just two:  one for liturgy and music and another covering structure, governance, constitutional and canonical matters (A006).  The convention also approved a resolution on "restructuring for spiritual encounter" that urges collaborative efforts related to seminarian formation and clergy compensation (A001) and another in support of collaboration between bishops and dioceses "that results in new structures," including mergers (C031).
A "put Jesus up front" budget
Having arrived at General Convention with a balanced draft budget for 2016-2018 of $120 million, the Joint Standing Committee on Program, Budget and Finance (PB&F) found itself with $12 million in additional funding requests to reconcile just days before the July 1 deadline for presenting a final budget for approval. 

Presiding Bishop-elect Michael Curry, during special testimony on June 29, urged PB&F and the convention to "put Jesus up front"  in the budget and use it to "engage evangelism seriously."

In the end, they did.  A successful amendment from the House of Deputies added at the last moment $2.8 million for planting new churches and nontraditional worshiping communities, with an emphasis on Latino-Hispanic communities, to a budget that already included $3 million for such work (to be funded, according to the amendment, from the church's unrestricted assets).  The final budget also includes money for an experimental digital evangelism initiative aimed at connecting seekers with local churches via Internet search engine data and other online materials. 

PB&F included in the budget it presented for approval on July 1 a new allocation of $2 million in support of a resolution the convention adopted calling for the church's response to systemic racial injustice (C019), to be funded from the church's short-term reserves. 

"It was the sense of the committee that given the atmosphere we're living in now–the shootings and the plight of African-American men–that we wanted to do more," Massachusetts deputy and PB&F chair Mally Lloyd told Episcopal News Service the day before the budget was presented. "Give them $2 million and a blank slate to really try something new for the church that we hope will have major impact."  [Read more here.]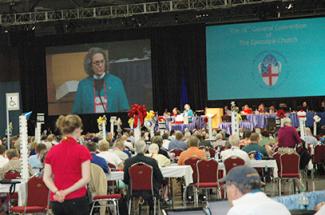 Tracy J. Sukraw On the big screen: Massachusetts deputy and PB&F chair Mally Lloyd presents the budget for approval on July 1
Even with the increased commitments to evangelism and racial reconciliation, the budget reduces the amount it asks from individual dioceses to 15 percent by 2018 (from the current assessment of 19 percent annually, which for the Diocese of Massachusetts amounts to $966,308 for 2015).  The convention, on its last day, approved revisions to the budget process (D013) that will make diocesan assessments to the Episcopal Church mandatory starting in 2019. 
That resolution was hard won—mostly because of opposition in the House of Bishops to the
Tracy J. Sukraw Massachusetts deputy Sarah Neumann studies the proposed budget on her iPad. stipend that it proposed for the House of Deputies president. A specially convened conference committee had to find a compromise path through a thicket of amendments, with the successful version creating a task force to study and report back on the stipend issue. A one-year extension process also was added for dioceses unable to make the full 15 percent assessment in 2018.

The budget includes the church's continued commitment of 0.7 percent to the Millennium Development Goals, and continued support for mission enterprise zones, global missions, the Young Adult Service Corps and Episcopal Volunteers in Mission.

The final three-year budget approved by the convention stands balanced at just over $125 million and goes into effect Jan. 1, 2016.
Creation care
Massachusetts was among several dioceses, including Nebraska, Newark and Western Massachusetts, that proposed fossil fuel divestment resolutions.  Massachusetts' C045 won the day, after an amendment by the House of Bishops removed the Church Pension Fund from the groups called upon to divest. The final version asks that the Investment Committee of Executive Council, the Episcopal Church Endowment Fund and the Episcopal Church Foundation "divest from fossil fuel companies and reinvest in clean renewable energy in a fiscally responsible manner." 
During legislative hearings, the importance of a response to climate change was not at issue; the debate had to do with whether or not divestment is an effective strategy.  Read more on the debate leading up to the votes here.
The General Convention also voted to create an advisory group and regional consulting groups on environmental stewardship (A030) and to authorize liturgical materials honoring God in creation (A058).  Additionally, it commended Pope Francis's encyclical (A171), called for public policy advocacy related to food systems issues (A170) and voiced opposition (C013) to the "environmental racism" of "locating of extraction, production and disposal industries where they disproportionately harm neighborhoods inhabited by people of color and low-income communities."
Prayer book & hymnal revision & "A Great Cloud of Witnesses"
General Convention directed the Standing Commission on Liturgy and Music to prepare plans for comprehensive revisions of the 1979 Book of Common Prayer (A169) and The Hymnal 1982 (D060), and to present those plans to the 2018 General Convention.
And, while Lesser Feasts and Fasts remains the church's authorized supplemental calendar of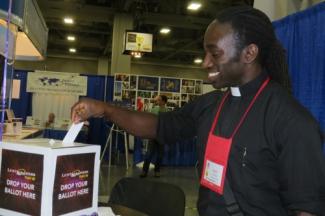 ENS Photo: Sharon Sheridan Speaking of saints: Lent Madness infected the Exhibit Hall on June 25 when convention-goers could vote for a saint to be included in the 2016 bracket. Here Massachusetts deputy Edwin Johnson casts his vote. Click on the photo to read more. saints' commemorations, the General Convention gave the go-ahead for revisions to Holy Women, Holy Men, an additional resource that has been in trial use. That resource will be renamed A Great Cloud of Witnesses, with commemorations to be reviewed against a new set of criteria (A056). Convention also approved for trial use "Weekday Eucharistic Propers 2015" comprising the seasonal collects and lessons from both Lesser Feasts and Fasts and Holy Women, Holy Men. 
Resolutions on the "open table" practice of allowing unbaptized persons to receive Holy Communion were defeated in the House of Bishops.
More from Massachusetts
Two resolutions proposed by Massachusetts deputies were successfully enacted.
General Convention approved the Rev. Edwin Johnson's resolution to have a name change rite added to The Book of Occasional Services (D036).  During hearings, several speakers, including members of the transgender community, testified about the need for and importance of such a rite.
The Rev. Thomas Brown's resolution calling for advocacy and prayer for Syria (D041) also prevailed, on the last day.
"The thing our church needs help with is the advocacy part, so that's why the resolution calls on the Office of Government Relations for organizing on behalf of the whole church to urge our government to address the atrocity of the refugee crisis in Syria," Brown said of the resolution. "We're leaving Salt Lake with a strong call to engage God's mission, and as we talk about and work for things like racial reconciliation and reconciliation with our LGBT brothers and sisters here at home, we also need to be working on reconciliation for people in the world."
Peacemaking over divestment in Israel-Palestine
The House of Bishops defeated a resolution (D016) requesting that the church's corporate social responsibility policy be applied to any investment in companies related to infrastructure support of the State of Israel's occupation of Palestinian territories. The legislative committee dealing with resolutions related to social justice and international policy received assurance that the church does not currently hold any direct investments in such companies. The prevailing opinion voiced during debate was that divestment could be detrimental to the Episcopal Diocese of Jerusalem's ministry in Israel, Palestine, Jordan, Lebanon and Syria as well as to Palestinian people themselves, since local economies are closely intertwined. 
Instead, the convention put its support behind two resolutions calling for reconciliation and restorative justice efforts (B013) as well as solidarity with Christians in Israel and Palestine and their peacemaking efforts on the ground (C018). Read more on those deliberations here.
Other resolutions that the convention adopted having to do with international policy include support for the Episcopal Church in Cuba (B003) and for ending the embargo there (B002), support for Christians in Pakistan (D035), for Sudan and South Sudan (B018), for Dominicans of Haitian descent facing revocation of their citizenship (D058), for humanitarian relief and partnerships in Liberia (A176) and refugee rights in Central America (D033).
Social justice and U.S. policy
General Convention also took positions on numerous domestic policy issues, among them criminal justice reform (A011, A183, D068), poverty (A092, A093) and hunger relief (D015), income tax parity (A094) and minimum wage increase (C048), death penalty abolition (D025), immigration  (D048, D057, D061, D074, D077, D079) and public education (B005).
Massachusetts advocates successfully promoted the resolution on access to quality public education for all. It endorses church partnerships with public schools and requests the All Our Children national network to convene a symposium on the church's role in addressing educational inequity.
--Tracy J. Sukraw
Find all Episcopal News Service coverage of General Convention here.  All General Convention resolutions and the action taken on each are available here.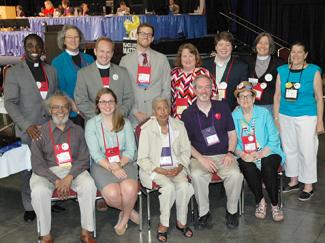 Tracy J. Sukraw
Members of the Massachusetts deputation: (back, from left) Edwin Johnson, Mally Lloyd, Thomas Brown and Sam Gould, alternates Julie Shea and Billy Boyce, deputy Jane Gould and alternate Betsy Ridge Madsen; (front) deputies Byron Rushing and Sarah Neumann, Bishop Barbara C. Harris, Bishop Alan M. Gates and deputy Fredrica Harris Thompsett.