With the overcast midday sky signaling the approach of the winter storm forecast for the Thanksgiving holiday, an interfaith group of Boston religious leaders gathered on Boston Common today to pray and speak out on behalf of the approximately 700 people who have been displaced by the recent abrupt closing of the city's largest homeless shelter on Long Island in Boston Harbor.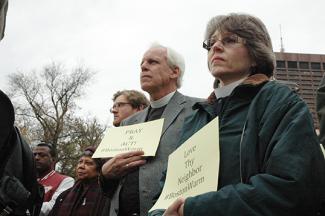 Tracy J. Sukraw The Rev. Stephen Voysey and the Rev. Canon Edie Dolnikowski were among the Episcopal clergy at the rally.
One speaker at the rally described the situation as being "homeless on top of homeless."
The city last month closed the only bridge to the island when an inspection deemed it unsafe; repairs will take at least three years, according to news media reports. The bridge closing appears to have been made without an advance plan to accommodate shelter residents, who have since been housed in a gymnasium and other temporary locations.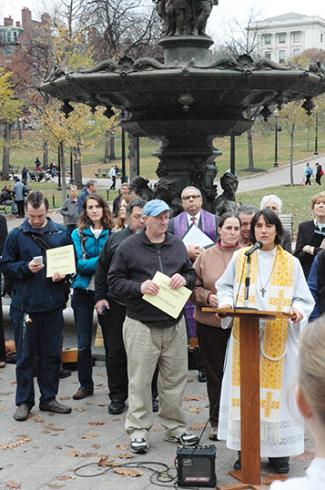 Tracy J. Sukraw The Rev. Tina Rathbone of the Cathedral Church of St. Paul called for "We are asking for improved conditions--adequate, dignified, stable conditions--for displaced men and women between now and the time they are moved to secondary shelter," the Rev. Tina Rathbone said before the rally started.  She is a priest on the staff of the Episcopal Diocese's Cathedral Church of St. Paul in Boston, ministering directly with people who are homeless and recently housed.  Rathbone helped organize the rally with the Massachusetts Council of Churches.

Bishop Alan M. Gates gave the closing prayer, and was joined by Bishop Suffragan Gayle E. Harris and numerous other Episcopalians who were among the 100 or so who gathered for the rally. 
Many held yellow placards saying "Give thanks and remember Long Island"; "Homeless Lives Matter"; "Love Thy Neighbor"; and "#BostonWarm."

The Rev. Burns Stanfield of Fourth Presbyterian Church in South Boston called directly on Boston's mayor, Marty Walsh, to "speak clearly of your strategy and timeline" for solving the shelter crisis.  "We believe you have a heart for those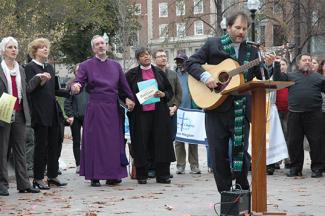 Tracy J. Sukraw Bishop Gates and Bishop Harris were among the religious leaders making a witness at the rally. who struggle to get by," Stanfield said.  "Please, Mr. Mayor, make it happen as quickly as you can."  He promised the prayer and support of the religious leaders gathered.

The Rev. Nancy Taylor of Old South Church in Boston called for "compassion, generosity and action" and urged those gathered to channel their concern into letters to Mayor Walsh.  "Employ the power of your voice on behalf of the voiceless" she said, and "transform this catastrophe into magnificent mercy," Taylor said.

Mayor Walsh can be reached at 1 City Hall Square, Suite 500, Boston, MA 02201-2013; 617-635-4500 or mayor@boston.gov.
--Tracy J. Sukraw