Kelsey Rice Bogdan is the executive director of Life Together, a leadership development and faith formation fellowship program for young adults. This will be Rice Bogdan's first program year as executive director. She sat down for a Q&A to share some of the opportunities presented by the 2016-2017 class of Life Together fellows, memories from her long connection with Life Together and some of her hopes for her new role. 
How do you describe Life Together? 
There are a lot of ways to describe Life Together. At its most basic level Life Together is a young adult leadership development and spiritual formation program in the Diocese of Massachusetts that is focused on building a generation of prayerful and prophetic leaders for the church and the world.
We do that through three pillars: intentional community life, service in the world--which is our site placements in churches and nonprofits--and our leadership development and spiritual formation training programs. Fellows come for 10 to 12 months, serve in the program working on the ground for social change, and that launches them into careers as activists, ordained priests, teachers, community organizers and many other vocations.
But I also see us as a laboratory for new ways of doing and being church. We are a community of young adults who are searching for the Good News in the world, searching for those places where the spirit is at work challenging injustice, and really trying to live into those places and embody those places in our own community, in our own being. So when we come together in trainings, when we live together in intentional community houses, when we're out working with churches and nonprofits, we're trying to live into these different, countercultural ways of doing things that we really believe have the power to transform and change ourselves and our world.  It really is more than a leadership development program, it's a new way of being church.
Who makes up the current Life Together class? 
They are young adults from all over the country, and this year actually from all over the world: Luke and Jenn taught English abroad, in Senegal and Japan respectively; Eliza spent a year working on small-scale, diversified vegetable and livestock farms; Lily and Savannah both organized around labor issues on their college campus; Sharley holds four Slam championships in spoken word art. And those are only a few of our 26 fellows.
Fellows are coming from a variety of life stages, some are fresh out of college and exploring what they want for their next step, some have been in the workforce for a couple of years, some are coming out of divinity school or other kinds of graduate school. All of them are inspired by this desire to be in a different kind of community and bring about social change, and explore what their own vocational aspirations are. They are trying to figure out: who am I in the world, who am I called to be, what am I called to do. Fellows are between the ages of 21 and 32, really in that exploratory period of life. Our cohorts are always diverse in race, gender identity, sexual orientation, background… it really is a rich environment for us to explore what it means to be agents of reconciliation, in community with one another and in the broader world.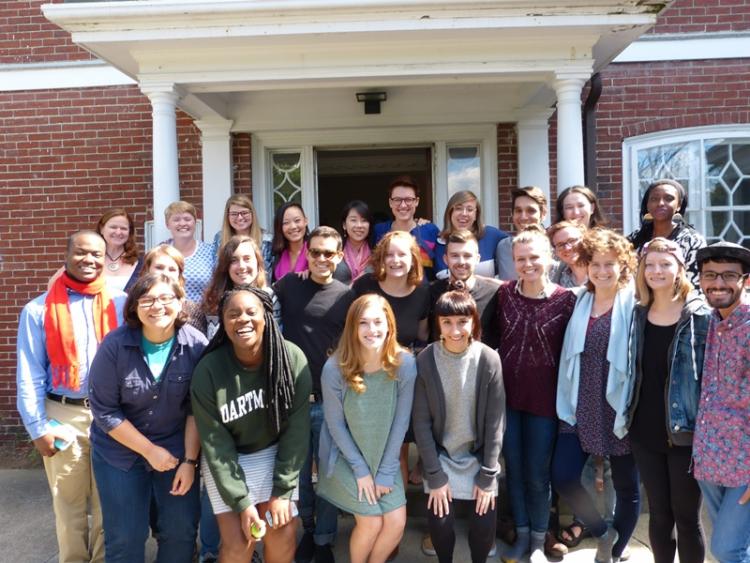 Courtesy Photo The incoming class of Life Together fellows.
What are a few examples of Life Together placements around the diocese? Are there new sites that have not had Life Together fellows before? 
We work with incredible churches and grassroots organizations throughout the diocese. One partnership I feel has been really wonderful is at Grace Church in Medford, which has been a partner since 2009. That is a congregation where the fellow has been a catalyst for ways the church has developed internal capacity and also reached out into the community. Through the gifts and leadership of fellows, parishioners there have worked in community gardening, campus ministry at Tufts University and fitness programs in the community. The most recent fellow there was very interested in interfaith relations--she had been a Fulbright scholar in Jordan--and through her the church started offering space for Friday prayers [at the church] for the local Muslim community. 
We also partner with a lot of nonprofits, some of which have been partners for a long time. We work with Youth on Board/Boston Student Advisory Council, supporting youth in Boston Public Schools as they claim their own voice and advocate for themselves in the school system, and with Dorchester Bay Youth Force doing youth jobs work in Dorchester. 
As far as new sites, we have a fellow at Church of Our Saviour in Milton this year. Their rector, Rachael Pettengill-Rasure, is an alumna of Life Together and has been really excited about the prospect of mentoring a fellow, and seeing what a fellow might enable that congregation to do-- a small congregation but one that has a long and rich social justice history and really wants to reach out into the community, so having a fellow to be a catalyst for those efforts might really launch that parish into some new and exciting ministries.
We also have a fellow at the Family Van this year. One of his possible projects is to start building some partnerships with the local YMCA in Roxbury developing Friday night health education programming there. The Family Van is a nonprofit that brings healthcare to neighborhoods where people might not go to see primary care physicians or might not be able to, and provides them with free primary care screenings and refers them as needed. I'm really excited to see how these new sites will grow through the added capacity a fellow offers.
You have been involved with Life Together for quite a while now. Can you tell us a bit about your trajectory, and what personally compels you about Life Together? 
I joined Life Together in 2009. I was coming out of Harvard Divinity School, and I had done young adult ministry work in the past and was thinking about going back to it. At a career fair that spring, walking down the aisles, I saw a flier that said "faith-based young adult social justice internships" and it just jumped off the page to me. I started talking to the guy behind the desk, Jason Long, and learned that what they were doing was placing young adults in congregations in the diocese and teaching them community organizing skills, and teaching them to tell their stories and invite other people into faith-based justice action. I was really drawn to this vision for taking church outside the walls of a building and into a movement, with and for people out in the world... I ended up saying "yes" to Life Together. I was placed at Trinity Church, Boston, where I organized folks to partner with Bunker Hill Community College's satellite program for nontraditional college students in the South End.
That year pushed me to grow in so many ways. I remember standing in a stream of students at Bunker Hill Community College, handing out leaflets and striking up conversations, singing Compline with the college group in the massive chancel at Trinity, bringing folks who had never been involved in a faith-based campaign together to act. The experience shifted my frame of how we do church, how our faith empowers our work for justice. It really gave me the concrete skills for doing that work, as well as for inviting people into a community that holds each other accountable and has purpose and meaning.
After that year I stayed on the staff at Trinity, and eventually became their director of stewardship.  I came back to Life Together as director of operations and external partnerships in May 2015. The alternative vision for how God is calling the church to move in the 21st century, and the role young adults will play in bringing that movement about, is what really brought me back to Life Together and what compels me to continue this work.
What are your hopes for this year, your first as executive director? 
My goal this year is really to listen and build relationships. In many ways I am still new to this role at Life Together, and this is only my second year back as staff and my first as E.D., so I really feel there are a lot of relationships to be built, in the diocese and with our nonprofit partners. This year that relationship building is critical, being able to listen to people's stories and hopes, where they see the church being called, being able to hear that and discern through that how we at Life Together we are being called to respond, and how we're being called to lift up those prayerful and prophetic leaders for the church and the world. My larger hope for the year is to hear people's stories and discern together where Life Together is being called to go in this next chapter of its organizational life. 
We are also continuing to think about how we live into practices that are countercultural, like Sabbath, and how we work for justice. Where are we seeing people on the margins, and how are we standing with them? That's really something I hope to explore in this year and beyond. How can we be that new form of church that God is calling us to be? 
Anyone who has young adults in your congregation who are hungry to work for social change, please encourage them to consider a year with Life Together. We start accepting applications in November, and we love to meet with people if they have questions. If churches are interested in getting to know us, whether for a site placement or in other ways, I would love to talk to them, too. You can learn more at www.lifetogethercommunity.org.