Episcopal City Mission presented $282,000 in Burgess Urban Fund grants to 21 community organizations during a Dec. 13 gathering at the Cathedral Church of St. Paul in Boston. 
The total amount distributed this year was up 17 perecent over last year, with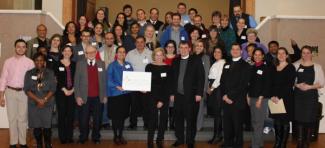 Burgess Urban Fund grant recipients honored on Dec. 13. minimum grants also increased from $5,000 to $10,000.
"The Burgess Urban Fund was established to improve the lives of the urban poor and oppressed.  We reach out into the wider community and partner with community-based organizations that have the power and capacity to reach into so many neighborhoods.  The fund's focus areas are faith-based organizing, immigrants' rights, workers' rights, affordable housing, poverty-related organizing and youth/senior organizing.  We are especially excited this year as we were able to increase both the grant size and the number of grantees funded," the Rev. Norman Faramelli said in a news release.  He is serving Episcopal City Mission (ECM) in an interim capacity while executive director Ruy Costa is on sabbatical. 
"It is evident within Massachusetts and within our own communities that there is an overwhelming need for organizing and advocacy to right the injustices of many.  This is illustrated by the increasing number of applications we receive every year; this year hit an all-time high of 60 applications with a large number from the workers' and immigrants' rights sectors," Katie Campbell Simons, Associate Director Community Partnerships and Public Policy, said in the release.
This year's Boston-based Burgess Urban Fund grant recipients were:  Boston Project Ministries; Boston Workers Alliance; Brazilian Immigrant Center; Brazilian Women's Group; Dorchester Bay Youth Force; Massachusetts Senior Action Council; ¿Oiste?; Student Immigrant Movement; Neighborhood of Affordable Housing; and Neighbors United for a Better East Boston.
The other Massachusetts-based Burgess Urban Fund grant recipients were:  Brockton Interfaith Community; Centro Comunitario de Trabajadores; Community Economic Development Center of SE Massachusetts; Essex County Community Organization; Merrimack Valley Project; The Neighborhood Developers; United Interfaith Action; United Neighbors of Fitchburg; The Worker Center for Economic Justice; Youth on Board; YWCA of Greater Lawrence; and Women's Health Advocacy Initiative.
"I think I can speak on behalf of many of today's recipients.  For us, this money is transformational.  It will truly help us to promote principles and practices of democracy and advance the political, social and economic standing of Latinos in the Commonwealth," Alejandra St. Guillen, Executive Director of ¿Oiste?, said in the release.
Dr. Alexandra Pineros-Shields, Burgess Urban Fund Committee Chair, closed the awards presentation by thanking the grant recipients for their quest to improve the lives of those in the Commonwealth affected by social injustice.
For 36 years, the Burgess Urban Fund has supported grassroots community organizing in response to social injustice in Massachusetts and has awarded more than $6.5 million in grants.