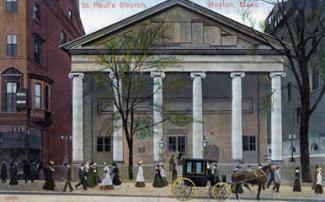 The Cathedral Church of St. Paul in Boston is celebrating 100 years as the cathedral church of the Diocese of Massachusetts. 
The whole of the diocesan community is invited to join the bishops for a service of celebration and rededication on Sunday, Oct. 7, 3-5 p.m.  Singers from congregations across the diocese will form a 100-plus voice choir, and there will be group photos on the church steps, starting at 2 p.m., for those who were baptized, confirmed, ordained or married at the cathedral.  Everyone will enjoy refreshments and music by the St. Cyprian's Church steel drum band after the service on the porch steps. 
The day is about celebrating the people of the diocese, Dean Jep Streit said. "Come to the celebration and encourage others to come.  You and the people of your community make us a cathedral by your presence, participation and partnering with us in our different ministries, programs and liturgies."

He also asks that the cathedral church be remembered in prayer.  This collect was written for the occasion by the Rev. Dr. Katharine Black:

Ever-transforming, loving God, you have guided St. Paul's Cathedral through 100 years of remarkable change and growth:  Grant it the will to flourish as a house of prayer for all people, and help it be an example to our diocese of leadership, mission, liturgy and courage at this crossroad of place and time, through the presence of Jesus Christ our Savior and the lively Spirit, who with you live and reign, now and for ever. Amen.
For updates and more information visit www.stpaulboston.org.
Above:  An early 1900's postcard image of St. Paul's Church, not long before it was dedicated as the diocese's cathedral church