Area Episcopalians joined an estimated 311,000 people for the People's Climate March in New York City on Saturday, Sept. 20 (New York Times).  The march coincided with the build-up to a UN summit on climate change, which is slated to take place on Tuesday, Sept. 23.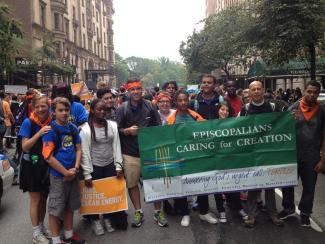 St. Stephen's Church in Boston brought a group of 17 (12 youth and five adults) and carried the DioMass banner.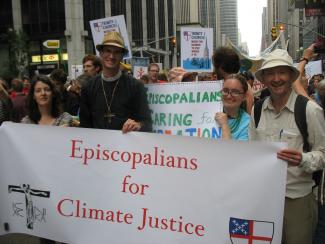 St. Anne's, Lincoln also proudly represented Massachusetts Episcopalians.
Presiding Bishop Katharine Jefferts Schori was among the authors of a joint pastoral statement on climate change, issued with the heads of the Anglican Church of Canada, the Evangelical Lutheran Church in America and the Evangelical Lutheran Church in Canada. The pastoral message states: 
"While an accounting of climate change that has credibility and integrity must include our own repentance, we find our hope in the promise of God's own faithfulness to the creation and humankind and in the liberation that comes from God's promise.

"God, who made the creation and made it good, has not abandoned it. Daily the Spirit continues to renew the face of the earth. All who care for the earth and work for the restoration of its vitality can be confident that they are not pursuing a lost cause. We serve in concert with God's own creative and renewing power."