At the Diocesan Convention in November, Bud Cederholm—retired bishop suffragan of the diocese, known to many as the "Green Bishop"—offered his thanksgiving for all that the Episcopal Church in eastern Massachusetts has accomplished in five years under its Creation Care Initiative.
The Creation Care Initiative began as a program of green grants, and eventually loans, that would encourage, challenge and support all the congregations of the diocese as they care for God's creation. The initiative has grown to include other kinds of public advocacy and education.
Here is a look back at the first five years of the Creation Care Initiative, and some of the milestones this movement has achieved in Massachusetts and beyond.  To explore more on a topic, browse the links from past years.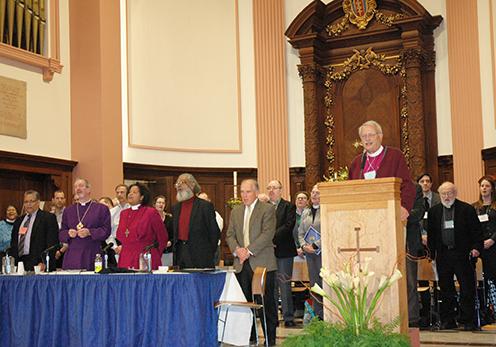 Tracy J. Sukraw Bishop Cederholm leads Convention in song during a presentation giving thanks for five years of concerted creation care efforts.
Grants and loans 
The 2015-2016 program year will be the last round of funds from the diocesan Together Now campaign for the green grants program.  "We are giving out $250,000 in grants.  If you have not applied, now is the time," said Cederholm in an interview following Diocesan Convention. "We have given over 100 grants, and churches have reduced their carbon footprint by anywhere from 10 to 50 percent, saving thousands of dollars in every congregation." 
The green grants, together with the green loans program, have made many green improvement projects possible in parishes, from new windows to better insulation to natural gas furnaces. 
"I give thanks for what parishes have done [with green grants and loans]," said Cederholm. "They have been witness to churches' moral commitment to this social justice issue.  It is the poorest among us who will suffer from climate change."
In addition to the many green improvements being made to church buildings across the diocese, the newly renovated Cathedral Church of St. Paul in Boston is LEED certified, and estimated to save more than $50,000 in energy expenses. 
Read more about green grants and loans: 
Education and advocacy
In addition to the grants and loans program, the Creation Care Initiative also included the designation of a creation care season, to be celebrated every year from St. Francis's Day on Oct. 4 through the first Sunday of Advent. 
"Creation care season encourages education, worship and advocacy regarding public policy, which includes hearings at the State House, rallies and public witness," said Cederholm. 
This year members of the diocesan community have also been active in New England Regional Environmental Ministries' "A New Awakening," a season of climate witness from St. Francis's Day (Oct. 4, 2015) through Transfiguration Sunday (Feb. 7, 2016).  As part of this effort, Bishop Alan M. Gates and Cederholm participated in "Gospel Hope for Climate Crisis:  A Workshop for Preachers" on Oct. 20.  The event was an ecumenical, hands-on workshop designed for members of both the clergy and laity interested in discussing the links between climate, poverty and other justice issues within the context of theology, and learning how to preach vibrant, faith-filled sermons about climate change. 
Solar churches 
With the rise of new leasing and payment models, solar energy is more accessible than ever before, and many Massachusetts churches are an active part of the trend.  These include at least 10 churches in the Diocese of Massachusetts:  St. Dunstan's, Dover; St. Bartholomew's, Cambridge; St. John's, Westwood; St. Paul's, Hopkinton; St. Paul's, Brookline; Grace Church, Medford; St. Andrew's, Framingham; Christ Church, Needham; St. Barnabas's, Falmouth; and St. Paul's, Bedford. 
Read more about solar-powered churches in the Diocese of Massachusetts:
Divestment and environmentally responsible investing 
There is also much to celebrate in the arena of environmentally responsible investing. In 2013, Diocesan Convention took a position on divestment by urging managers of Episcopal endowments to freeze direct investments in fossil fuel companies, and also passed a resolution supporting a carbon tax.  At the Episcopal Church's 2015 General Convention, Massachusetts was among several dioceses that proposed fossil fuel divestment resolutions, and its proposal was the model for the version that was adopted, asking that the Investment Committee of the church's Executive Council, the Episcopal Church Endowment Fund and the Episcopal Church Foundation "divest from fossil fuel companies and reinvest in clean renewable energy in a fiscally responsible manner."
Episcopal City Mission divested its assets from fossil fuels in 2014, becoming what it believes to be the first Episcopal entity in Massachusetts to divest from fossil fuels. 
A new fossil-fuel free investment fund, now available through the Trustees of Donations, and also a result of a 2013 Diocesan Convention resolution, was announced at the 2015 Diocesan Convention. 
"With hearty thanks and applause, thanksgiving was offered to the trustees, the diocesan treasurer and the Financial Advisory Committee of [Diocesan] Council for investing the $8 million into this new alternative fund," said Cederholm.  At the 2015 convention, Cederholm urged congregations to prayerfully consider divesting part or all of their portfolios from fossil fuels.  
"Our fiduciary responsibility includes a responsibility to abide by the values of the institution," he said. "And for us, those values include justice and caring for creation." 
Read more about divestments and environmentally responsible investing: 
Learn more 
To learn more about the Creation Care Initiative, visit the Creation Care page here. To find out more about green grants and loans and how congregations can start the application process, visit the grants and loans page here.  
--Ellen Stuart Kittle