A group of Christians from across Massachusetts gathered on a hillside at the Heifer Farm in Rutland on Sunday afternoon, Nov. 13 to reaffirm their dedication to restoring God's creation.
Led by five Protestant and Roman Catholic leaders, including Bishop Alan M. Gates of the Diocese of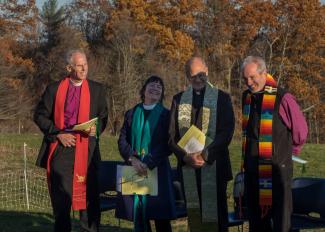 Robert A. Jonas Bishop Doug Fisher, the Rev. Margaret Bullitt-Jonas, Father Richard Reidy and Bishop Alan Gates Massachusetts and Bishop Douglas J. Fisher of the Diocese of Western Massachusetts, the group heard words from Genesis and the writings of Meister Eckhart and Wendell Berry, offered confessions and prayed and sang during the public outdoor prayer service titled "We are the earth." 
"We represent different branches of the Jesus movement, but we are united in a single Christian mission," the Rev. Margaret Bullitt-Jonas told the gathering, according to a Nov. 14 post on her blog.  She is the missioner for creation care in the Diocese of Western Massachusetts. 
"We are here to say that we know who we are:  people made in the image and likeness of God; people sent out into the world to bear witness to the love of God in Jesus Christ.  We are not willing to settle for a world ruined by catastrophic climate change," Bullitt-Jonas said.
The group had an opportunity to renew individual commitments to care for the earth using pledge cards with green ribbons.
According to Bullitt-Jonas, Gates pledged to encourage congregations in the Diocese of Massachusetts to include an additional question in the baptismal covenant found in the Book of Common Prayer: "Will you cherish the wondrous works of God, and protect the beauty and integrity of all creation?"  The Episcopal Church's General Convention in 2015 authorized the additional question for trial use.
Other leaders participating in the prayer service were Jim Antal, Conference Minister and President, Mass. Conference, United Church of Christ; Bishop Jim Hazelwood of the New England Synod of the Evangelical Lutheran Church in America; and Father Richard Reidy, Vicar General, Catholic Diocese of Worcester, representing Bishop Robert McManus.
Read Bullitt-Jonas's blog post about the service here and see more photos on Facebook here.