Bishop Alan M. Gates has appointed the Rev. Dr. Karen Coleman to serve as the acting Episcopal chaplain at Boston University.
She succeeds the Rev. Dr. Cameron Partridge, who has been the Episcopal chaplain at Boston University (BU) since the fall of 2011.  Partridge has accepted a new call to become the rector of St. Aidan's Church in San Francisco, beginning in November.
"We bid farewell to Cameron Partridge with deep affection and gratitude for his service not only to the BU community, but to the whole diocese," Gates said.  "Karen Coleman will bring to her ministry at BU a passion for building bridges between academia, the church and the world."  
Coleman's appointment is effective immediately to allow for transition before Partridge's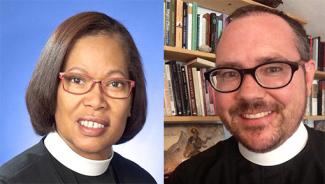 Courtesy Photos New acting BU chaplain Karen Coleman and outgoing chaplain Cameron Partridge departure. Partridge's final service at BU will be a Vigil of All Hallow's Eve with Communion, at BU's Marsh Chapel, on Oct. 31 at 7 p.m.
Over his 11 years of ordained ministry, Partridge has served in parish, divinity school and campus ministry settings.  Alongside his ministry at BU, he has been the denominational counselor for Episcopal/Anglican students at Harvard Divinity School (HDS), and since completing his doctorate in theology at HDS in 2008, he has taught a range of courses in Christian theology, Episcopal/Anglican studies and studies of women, gender and sexuality, at HDS, at Episcopal Divinity School in Cambridge and at Harvard College.  
Since 2007, he has actively contributed to the ongoing conversation on gender and sexuality in the Episcopal Church and Anglican Communion, bringing to it both his scholarship and lived experience as an openly transgender man.  He is an advocate for legislative protections on the basis of gender identity and expression at both local and state levels, including Massachusetts' recently enacted law protecting equal access to public accommodations.  
In addition to his doctorate in theology, Partridge holds a bachelor of arts degree in religion from Bryn Mawr College, a master of divinity degree from Harvard Divinity School and a master of sacred theology degree from Berkeley-Yale Divinity School.
"It has been such an honor to serve at Boston University these last five years and in the wider Diocese of Massachusetts for a number of years more," Partridge said.  "I have learned so much and have been so supported and sustained here.  As my family and I prepare to head into our new adventure in California we do so with very full hearts.  I am so glad that Karen Coleman has said yes to this ministry at BU, and I wish her and the BU community all the best as they discover the new things God will undoubtedly be doing in their midst."
The BU chaplaincy is a half-time position.  While serving as acting chaplain, Coleman will continue as half-time rector of St. James's Church in Somerville, a position she has held since 2010.
"I am honored to be appointed as acting chaplain to BU.  The enthusiasm and spirit-filled grace that I have witnessed during my ministry has been a witness to God's work and gifts in the world.  Cameron has done an outstanding job during his time as chaplain and I look forward to continuing the ministry," Coleman said.
Prior to becoming the rector of the Somerville parish, Coleman served as the priest-in-charge of Trinity Church in Randolph, from 2007 to 2010, and as assistant priest at Christ Church in Needham, from 2004 to 2007.  She is a graduate of the University of Michigan and holds master and doctor of ministry degrees from Episcopal Divinity School.  She served as a seminarian at Trinity Church in Boston and as a transitional deacon at St. James's Church in Cambridge.  She was ordained to the priesthood in 2004.  Prior to her seminary studies, she worked as the assistant director of alumni relations and development at East Stroudsburg University in Pennsylvania.
She currently serves on the Diocesan Council, is a member of the Diocesan Disciplinary Board and is the diocesan clerical representative to the Provincial Synod of New England Episcopal dioceses.