View video, photos and media coverage from the event here.
While mainline denominations don't often hold revivals, the compelling need for people of faith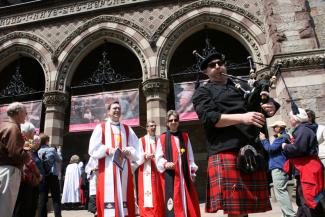 Jeremy Marin From left): Bishop Nick Knisely of Rhode Island, Bishop Thomas Ely of Vermont and Presiding Bishop Katharine Jefferts Schori in the procession from Old South Church to Copley Plaza, where daffodils were placed at the Boston Marathon memorial site. to fight climate change spurred the Episcopal Church and the United Church of Christ to break new ground. On Saturday, April 27, several hundred New Englanders gathered at Old South Church and Trinity Episcopal Church for the first-ever Climate Revival.
 
Early that morning a group of Maine Episcopalians and a few UCC folk boarded a bus in Portland, Maine, and, after stopping for more passengers in Portsmouth, N.H., they arrived at the corner of Boylston and Dartmouth streets, just yards from the site of the first Boston Marathon bomb explosion less that two weeks ago.
Bishops from the Episcopal dioceses of Connecticut, Massachusetts, Rhode Island, Western Massachusetts and Vermont participated in the day.
 
Two worship services featuring leaders of several denominations, including sermons by the Rev. Geoffrey A. Black, President and General Minister of the United Church of Christ, and the Most Rev. Katharine Jefferts Schori, Presiding Bishop of the Episcopal Church [read her sermon here], set the tone for a day that caused all present to consider the role of individuals and members of various faith communities in the effort to heal the earth and all life contained within it.
 
At the beginning of opening worship at Old South Church, those present were invited to turn in the direction of the bombings and offer prayers and a blessing for all affected by the violence.
 
Pre-recorded video messages from environmental activist Bill McKibben and Archbishop Desmond Tutu inspired thoughtful consideration of the pressing need to fight climate change.
 
A panel discussion on the issue featured Black; Jefferts Schori; James E. Hazelwood, Bishop of the New England Synod, Evangelical Lutheran Church in America; and Thomas G. Carr, Senior Pastor of the First Baptist Church in West Hartford, Conn. It concluded with the signing of a document titled, "A shared statement of hope in the face of climate change" [available here].
--Heidi Shott, Canon for Communications and Social Justice, Diocese of Maine