Following is a letter issued July 27 to the people of the Episcopal Diocese of Massachusetts from Bishop Alan M. Gates regarding the diocese's new mission strategy, a draft of which will be available in early August for review.  The diocesan community is invited to respond to the draft at forums scheduled around the diocese or via phone and online surveys.  The forum schedule, survey links and more information about the mission strategy process are available here.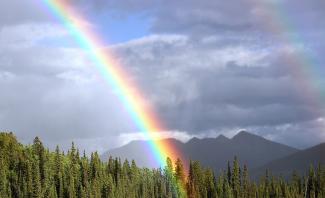 pixabay.com
Dear people of the Diocese of Massachusetts,

As I write this letter I am gazing across the lake at the Barbara C. Harris Camp and Conference Center.  A mid-summer thunderstorm passed to the south of us a short while ago.  The shouts and chants of young campers drift over the water. The dark clouds have moved off, and now a segment of rainbow has appeared on the horizon over the Pack Monadnock Mountain.
 
I am grateful for this place.  I am grateful for those children.  And I am grateful for that bit of rainbow on the horizon, recalling God's sign once given.  In the midst of dark clouds and turbulence all around us, here is a reminder of God's promise of hope renewed again, and again, and again.

I am grateful as well for our continuing discernment of God's call to us in this diocese.  For the past three months a team of 15 persons from across our diocese, appointed jointly by your Diocesan Council and bishops, has been working intensely and faithfully to complete a draft of our diocesan mission strategy.  Listening events, surveys and focus groups during the winter and spring months, extraordinarily well attended, have given us a rich tapestry of input and impressions, peeves and passions.
 
It is clear that there is a huge hunger to connect with others and make a difference; that there is a yearning for deeper nourishment as disciples of Christ; that there is deep gratitude for past accomplishment and blessings; that there are those who feel alienated from any sense of diocesan community; that bricks and mortar at times create holy spaces for us, and at times feel like a millstone about our necks; that there are a host of ways in which Episcopalians in our diocese are striving to lead, serve and work through the power of the Spirit to be agents of God's grace.

Alongside all that we have heard from you, your mission strategy team and I have also considered changes in the world around us, demographics in our Commonwealth, trends in the wider church and calls from our Presiding Bishop Michael Curry to be not just members of an institution but also participants in a movement as followers of Jesus.

How will we address these challenges with transparency and accountability, with charity and humility, with the strength of our traditions, and with the courage to change and be changed?  These are questions with which I as your bishop, together with Bishop Gayle Harris, have found ourselves wrestling.  With the drafting team we have entered into creative and faithful dialogue.   We are striving to create a mission strategy which is broad enough in scope and aspiration to guide us for many years, but also tangible and concrete enough to focus our energies and resources in the near future.

During August the draft mission strategy will be available for review and response from members of the diocesan community.  Numerous forums will be held at locations around our diocese, and phone and online surveys will also be available for those unable to attend.  I hope you will plan to participate.

I am grateful for the ways that my own hopes, expectations and vision as your bishop have been engaged deeply and guided this process, even as we express our collaborative leadership.  I am convinced more every day of the power of the apostle Paul's image of the Body of Christ – a body made up of interrelated members, in need of one another, sharing one another's burdens and strengthened by one another's gifts.  Truly we are one Body, "joined and knit together by every ligament with which it is equipped." (Ephesians 4:16)  This is the very essence of the Church, and it is the sacramental reality by which we are strengthened to carry out the ministry of reconciliation which Christ has entrusted to us.

I hope that you will hold in prayer the drafting team, the full Diocesan Council and both your bishops, as we conclude this chapter of our collaboration in leadership. Summer blessings to you!

Faithfully and fondly,
The Rt. Rev. Alan M. Gates


A Prayer for Our Diocese and the Mission Strategy Process
Lord Jesus Christ, we come before you as a people of God, seeking to join your transforming work in the world.  Open our eyes to see the movement of your Spirit.  Open our minds to imagine new possibilities.  Open our ears to hear the voices of all your children.  Open our mouths to speak with honesty and love.  Open our hands to share all that we have.  Open our hearts to receive all that we need.  We thank you, Lord, for calling us as your disciples and friends.  Grant us courage to follow where you lead.  In your Name we pray. Amen.