Advent, beginning this year on Nov. 27, is the four-week season of anticipation and preparation for Christ's birth, a time when the Episcopal Church's Book of Common Prayer petitions that God "give us grace that we may cast away the works of darkness, and put upon us the armor of light." Here are resources for giving and getting ready in this holy season.

• The Rev. Thomas Mousin, Rector of St. John's Church in Charlestown, and The Rev. Merry Watters, of the Church of the Convenant United Methodist Church in Averill Park, N.Y., have been creating and sharing their hand-drawn Advent calendar for more than 20 years. The 2016 calendar includes a simple, tangible action for each day of Advent. The printable calendar is now online. It is free and can be printed and reproduced.
• The Rev. Dr. Maggie Arnold, Assistant Rector at Grace Church in Medford, created a handpaint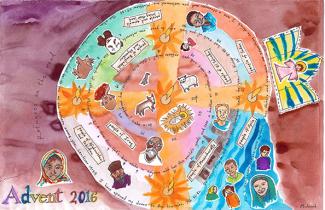 ed Advent calendar which focuses on the holy family as refugees, and includes images of refugee populations around the world, those who are homeless and those whose homes and habitats are in danger. The back has a Bible passage to pray with each day. It may be downloaded, printed and shared.
• The Anglican Communion Web site and the Society of St. John the Evangelist are again offering a global digital Advent calendar as a way to engage in the season of Advent with people all over the world. Sign up to receive a daily meditation by e-mail, beginning Nov. 27, and respond with your own images and prayers. Learn more and sign up here. 
• Leaders of the Episcopal Church, Evangelical Lutheran Church in America, Anglican Church of Canada and Evangelical Lutheran Church in Canada have prepared devotions for each of the four weeks of Advent. The reflection series, called "Liberated by God's Grace," can be found here. 
• Episcopal Relief & Development provides opportunities for meaningful, socially conscious gifts through the Gifts for Life catalog. Gifts provide livestock, clean water, health care, microcredit loans, vocational training and much more in the world's neediest regions. Givers can browse the catalog and select a gift that resonates with them or someone they love—they'll receive a card, to keep or give, that details how their gift will be used.