The B-PEACE Resource Day was held on Sept. 28 at Roxbury Community College. About 350 participants from 80 congregations throughout the diocese gathered to learn, collaborate and discover new tools for preventing violence in families, schools and communities.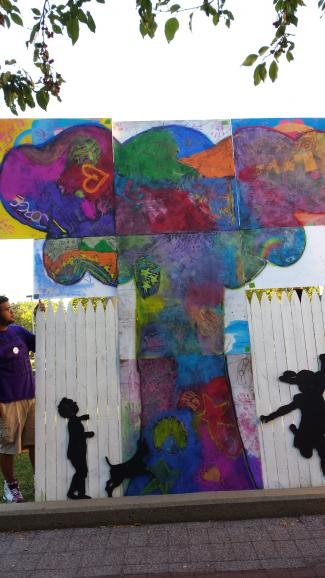 Art panels created by youth participants grew into a colorful tree by day's end. The Rev. Kathleen Adams-Shepherd, Rector of Trinity Church in Newtown, Conn., gave the opening plenary. She told of what it was like to minister to her congregation and her community in the aftermath of the Dec. 14, 2012, Sandy Hook Elementary School shootings, and how the experience has been a call to be a "witness, presence and hope" with others in the year since.

"The Gospel calls us to carry a cross of hope and peace and to care deeply for every human life, the lives of people we know personally and the lives of those we may never meet," she said.  "We are called not to wash our hands of violence in this world but to raise our hands and our voices in protest against it."

Participants selected two workshops to attend, on subjects that ranged from taking political action to hiring teenagers to preventing domestic violence.  Middle and high school age youth attended interactive workshops where they created artwork and even stepped into the performance of Urban Improv, a group that uses improv to teach strategies for dealing with conflict and anger.

The B-PEACE Resource Day launched the B-PEACE for Jorge Campaign developed by the diocese's Jorge Fuentes Antiviolence Task Force.  Its aim is to offer congregations and individuals with a variety of ways they can promote peace and work against violence.

Find photos from Resource Day here, and watch a video about the day here. Videos of the full plenary speech and music by the St. Cyprian's Celestial Infernos Steel Drum Band are available on our YouTube channel. 

Read the Boston Globe's Oct. 8 stories about Jorge Fuentes and Resource Day.