The procession departed into the wintry night from St. Luke's-San Lucas Church and made its way uphill through snowy, slushy Chelsea streets, searching for shelter with the Holy Family leading the way--Joseph, Mary and the soon-to-be-born Christ child, carried on a handled platform decorated with Christmas flowers and fruit.

The group soon arrived at the home of Manuel and Irma Castellon and their daughters, and those in front knocked on the door and started singing: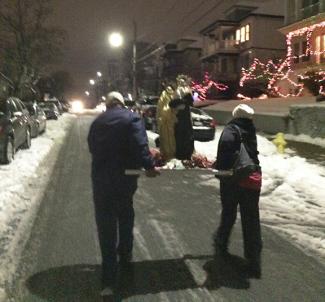 Tracy J. Sukraw Leading the way, in search of shelter for the night
"En nombre del cielo os pido posada pues no puede andar ya mi esposa amada." ("In the name of heaven, I ask you for shelter for my wife is tired; she can go no further.")

Mercifully, after several more stanzas of negotiation, the Castellons welcomed everyone into their warm and well-lit home, singing together: 
"Entren, santos peregrinos, peregrinos, a este humilde rincón no de mi pobre morada, morada, sino de mi corazón."  ("Come in pilgrims, holy pilgrims, holy pilgrims, in this nook take your part; not alone of my poor dwelling, my poor dwelling, but take also of my heart.")

This was the first night of the Chelsea Episcopal mission's Las Posadas ("the inns") festival, which follows the Latin American tradition of re-enacting Joseph's search for shelter.  Over the course of nine nights leading up to Christmas, the statues representing the Holy Family are carried in procession to a different family's home and, after gaining admittance from the "innkeeper" hosts, the group enjoys a fiesta together, with prayers and Christmas carols and refreshments.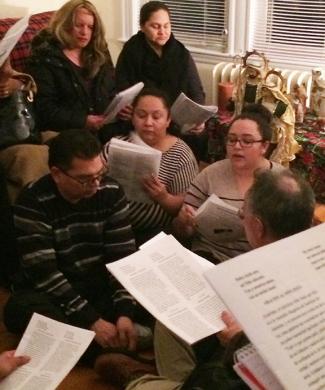 Tracy J. Sukraw Prayers and singing before feasting begins at the Castellon home On this night, Episcopalians from several parishes joined the Chelsea congregation, including youth groups from St. John's Church in Westwood and the Church of the Holy Spirit in Mattapan who are planning a mission trip to Honduras together in June.

The house was filled to bursting, and the Castellons served everyone homemade tamales--200 of them, wrapped in banana leaves and steamed in a gargantuan pot whose size was rivalled only by that of the Christmas tree in the hallway twinkling with lights of every color.

To be taken in by this welcoming family after just a short walk in the cold through unfamiliar streets was to get a glimpse of the experience of finding refuge as a stranger in a strange land. 
Bishop Gayle E. Harris, in her welcoming remarks to the gathering, connected the Holy Family's search for shelter with the plight of current-day migrants and refugees.

"In Jesus' time, people were on the move because of the government," a government oppressive to those not of the ruling elite, she said.

"And many people around the world have to travel [today] in order to find homes and work, as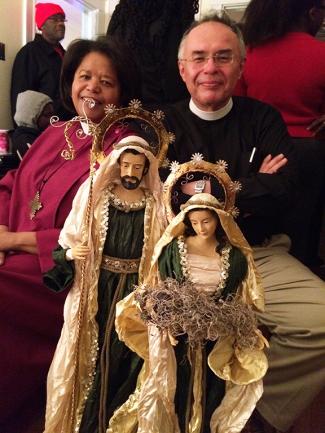 Tracy J. Sukraw Bishop Gayle Harris and the Rev. Edgar Gutierrez-Duarte, pictured with the traveling Holy Family figures, helped lead the night's celebration. Mary and Joseph had to on this special trip.  They were poor, and they were refugees, refugees in their own land," she said.  "And so it is in our time, here in the Americas, North and South and Central, this land is a land now where people are forced to move," with fear-filled hearts across borders that may seem arbitrary, she said, in search of security and justice.

"Mary and Joseph had to have the same feelings and experiences," she said.  "So we are journeying with them, and they with us.  We still have hope because God is with us and God was with them," she said, to which a loud "Amen!" was heard and applause rippled through the crowded rooms.

It was time for tonight's fiesta to begin.  Tomorrow night the search for shelter would resume.
--Tracy J. Sukraw