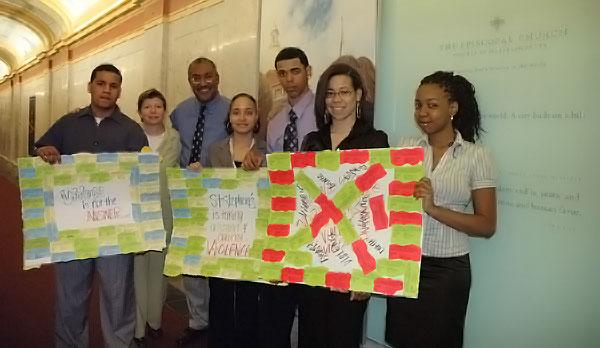 St. Stephen's teens visited the diocesan offices after a visit to the State House to lobby legislators for increased funding for summer jobs. The group carried posters with messages from 400 teens who want summer jobs. Pictured are Angel Gutierrez; Liz Steinhauser, St. Stephen's Director of Youth Programs; Greg Jacobs, Diocesan Staff Officer for Urban Ministry Development; Crystal Rosa; Victor Mejia; Adelvia Gomez and Shanasia Bennett.
Five teens from the St. Stephen's Church youth program in Boston visited Massachusetts legislators May 2 to lobby for increased state funding for summer jobs for youth as part of their ongoing anti-violence efforts. Last year, nearly 8,000 teens applied for summer jobs through the Boston Youth Fund (BYF) but fewer than 3,500 teens actually received jobs. Within days, the House of Representatives approved an additional $1 million for the Youth Works budget -- an improvement, although still short of the $2.5 million in additional funding requested by advocates.
The five teens are part of the Justice and Opportunities for Boston Students (JOBS) Team, which was the subject of a Boston Herald article following their State House visit and policymakers are beginning to take note of them. Over the past months, the 20 teens on the JOBS Team helped organize 400 of their peers to apply for summer jobs. Working out of the basement of St. Stephen's, the teens trained fellow students about budget policy and how to lobby state legislators. They were supported by high school administrators and youth workers from the church. "We believe we have the right and the ability to be responsible civic leaders! We want to contribute to the positive growth of our communities instead of the growth of teen violence," some of them wrote in an op-ed article submitted to the local paper.
"The lives of many teens could be changed dramatically for the better with more opportunities for meaningful employment at summer jobs. We know this to be true and speak from experience because we have had great jobs through the summer program run by St. Stephen's," the group wrote.
See the article by Jaissa Feliz, Adelvia Gomez, Victor Mejia, and Angel Gutierrez, with the assistance of St. Stephen's Teen Organizing Intern Emerita Torres attached below.

"Since January 1, 2008, fifteen people under age 25 have been killed, with many more injured or arrested. Unfortunately, we expect that these numbers will only grow as we approach the summer because more students will be out of school and spending their summer months on front stoops, standing on street corners, or just getting involved with the wrong crowd." With the start of summer just around the corner, the clock is ticking for legislators to take preventive measures.