Although St. Stephen's Youth Programs (SSYP) began at St. Stephen's Church in the South End of Boston 17 years ago, its programs, including B-SAFE and B-PEACE, have rarely stayed within the four walls of a church.
From lively celebrations in local parks, to field trips to sites across the city and the state, B-SAFE participants and organizers have been a visible presence in the community for years. B-PEACE, the anti-violence and community organizing arm, is visible at neighborhood peace walks, lobby days at the State House and at a host of other community activities. SSYP has longstanding relationships with families, community leaders, 60 churches across the diocese and local activists and politicians. In recent years, these deep connections are bearing fruit. St. Stephen's is expanding its community organizing work, adding a parent leadership team and building the next generation of neighborhood leaders. 
This summer, every B-SAFE site hosted a family barbecue, offering a chance for families of B-SAFE participants to come together and get to know one another. St. Stephen's is also growing its parent involvement in a more formal sense.   
"We have been doing more leadership development and community organizing with parents, not only asking 'what do you need to support your child,' but also, 'what else do you need, what would you like to see be different in your neighborhood?'" said the Rev. Liz Steinhauser, Director of Youth Programs for St. Stephen's.  
Courtesy Photo SSYP parents receive certificates after completing a Families First program. A leadership team of 12 parents of SSYP youth is working on issues of safety and access in the schools serving the South End. The issues the mostly Spanish-speaking parents identified were safety during school pick-up and drop-off, and the fact that many of them were unable to engage with parent leadership in the schools. Parent meetings were held during the day, and did not offer Spanish interpretation. The parent leadership team worked with the school to add a Spanish-speaking parent to the school's parent leadership board, and to move the meetings to a time when working parents could attend. 
"Community organizing sometimes means confrontation and agitation…and I would say there was some agitation here, but they did all of this in a way that was collegial and friendly, bringing choices to the table and not about picking a fight," Steinhauser said. "If you say you want parent engagement, you have to actually set it up so they can engage." 
Steinhauser said this work is all of a piece with the mission of SSYP. 
"All our programs try to meet the day-to-day needs of young people, whether that's with youth jobs, academic support during the year, summer programs, pairing high school students with adults to help them think about college, getting involved in the schools," she said. "But simultaneous with meeting the immediate needs, we need to ask these questions of why we have inequities and injustice that make these programs necessary."
"We try to help people understand the context in which they're doing the work and to think about the relationships that they're building across difference." 
Teen organizers work for a safe and healthy park 
St. Stephen's Youth Programs is now in its second year of offering community organizing positions for teens. The hub of SSYP's teen community organizing program is at St. Augustine's and St. Martin's Church in Roxbury, which is a B-SAFE site and the home office of the B-PEACE initiative. The teen organizing program combines elements of B-SAFE's youth work with B-PEACE's community organizing training.
Through years of conversations with members of the community, SSYP and the team of teen organizers identified nearby Ramsay Park as a key first step in making the St. Augustine's and St. Martin's neighborhood safer, according to Sarah O'Connor, the youth and neighborhood organizer for SSYP.  The park has historically been the site of drug use and other illegal activity, and O'Connor said that local parents would not allow their children to play there.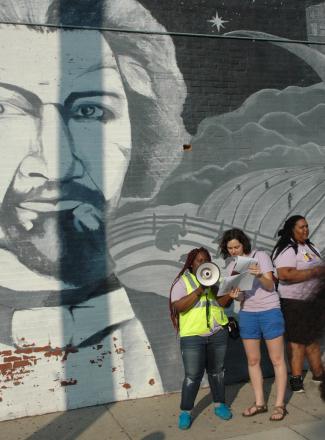 Youth organizers offered prayers and poetry along the route of the peace walk in the Lenox neighborhood of Roxbury.
Ebony Chandler is a teen organizer with SSYP. Her family has belonged to St. Augustine's and St. Martin's Church for four generations. But despite the fact that the church is only steps around the corner from Ramsay Park, Chandler said she had never been to the park prior to this project. 
"My friends were all surprised that we were coming here, it just didn't feel safe," Chandler said. "It's usually a pretty bad vibe here, and that's what we're trying to change." 
Tahnaree Evans, also a member of the teen organizing team, said that the Ramsay Park initiatives are about "bringing a community that is separated back together." 
"Right now, kids can't really come to this park… that's my biggest thing, the kids," Evans said. "I want them to have a place to be outside and play. They have a right to be here." 
For B-SAFE, there was also a very practical reason to have a safe and welcoming park in the neighborhood: "Our kids would walk many, many long hot blocks into the South End to be able to use the public parks on the other side of Mass. Ave.," O'Connor said. "And it seemed totally ridiculous that there was this big, beautiful public park right across the street but it wasn't really safe to go there." 
The changes the teen organizing team made to Ramsay Park started small, with a bright, cheerful mural painted on the blacktop, and an installation of artwork made by B-SAFE participants from across the city.  This year, they are expanding their operation on the ground and on Beacon Hill.  O'Connor said that the teen organizers have met with many public officials to bring attention to the problems in Ramsay Park, and to ask for more resources to make the park safe and healthy for kids.  Thanks in part to this organizing work, the city has allocated money in the next budget cycle for a full renovation of the park. 
Making a witness for peace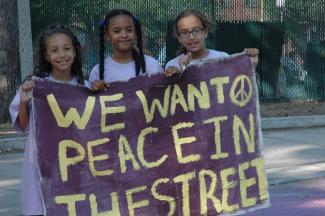 Young walkers at the barbecue and walk kickoff in Ramsay Park. Ramsay Park was the centerpiece of a barbecue and peace walk on July 20, when local families, B-SAFE participants, SSYP teen organizers, Boston police and local officials and clergy gathered to share a meal and be a presence for peace in the neighborhood. 
The peace walk was one in an extensive series that the city and the police department first began in neighborhoods across Boston, starting after a spate of violence in August 2015. Churches, community organizations and neighbors have rallied to make the peace walks a nearly weekly event in neighborhoods of East Boston, Mattapan, Roxbury, Dorchester and Charlestown.  Boston Mayor Marty Walsh, Police Commissioner William Evans, Attorney General Maura Healey and Bishop Alan Gates have all participated in peace walks. City Councilor Tito Jackson and State Representative Byron Rushing both joined the Ramsay Park walk in July. Officers from the Boston Police Department always join the peace walks, engaging in conversation with members of the community along the way.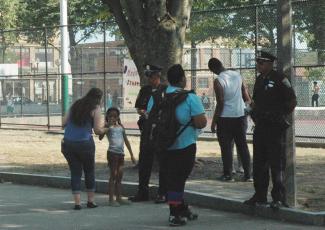 Police and youth chat at the barbecue in Ramsay Park.
The Rev. Mark Scott is the associate pastor at Azusa Christian Church in Dorchester. He is on the City of Boston's street worker team, and primarily helps faith communities get involved with street work and antiviolence work. 
"This is a city of neighborhoods, and [walking] is a natural thing to do in our beautiful walkable city," he said. "These walks say, we live here, this is one South End, we need to work on this together." 
"If you want something, ask the person who has it. So we ask the God of peace for peace, but He's going to ask that you do something too," Scott said in his remarks before the peace walk kickoff. "He's going to ask, love me, love your neighbor. And it's an expression of love to walk together." 
Of the 12 teen organizers and the program's site assistant, five were previous B-SAFE participants, five had been B-SAFE counselors-in-training, and three has been junior-counselors-in-training.  "We have 17 years under our belt at this point, a lot of the teens we have developed over the years are now young adults who are engaged in this work," Steinhauser said. 
Fania Joseph is a 17-year-old community organizer with SSYP working at St. Augustine and St. Martin's.  "I cherish this, they're here for me, the teen staff is here for me," she said, as B-SAFE participants, parents, police officers, clergy and neighbors stood in Ramsay Park eating hot dogs and hamburgers together. "When I look at these kids I see warmth, I see opportunity." 
Strengthening neighborhoods through connection
As the teen organizing team looks ahead to the future of Ramsay Park, they are making a plan for community outreach and engagement for the redesign process.  "They are going to be working on getting the community ready to engage with the process," O'Connor said.  [The teens] are building power for the longer-term project of making sure that the neighborhood is safe and well-resourced for the people who live there." 
Expanding community organizing, leadership development and just plain fun beyond the usual audience of children and teens just makes sense, said Steinhauser. 
"We're going to create more justice and build the kingdom of God by knowing each other, by building a community that is good and just and healthy for everybody," said Steinhauser. "Parents and neighbors around our sites are a part of that, and we want to engage with everybody." 
"We want young people to feel big, safe and connected while they're in [our programs], but we want them to feel that way in the rest of their day, their neighborhood, their lives," O'Connor said. "We want them to feel as big, safe and connected in their whole city as they do in B-SAFE."
--Ellen Stuart Kittle