Churches across this diocese answered the Massachusetts bishops' call to open their doors leading up to Election Day, with at least 70 congregations offering prayers for the nation and election, hosting vigils and special services and offering space for silent prayer between Nov. 6 and 8. Today, with many communities feeling shocked and concerned about the outcome of the election, many local clergy have a message:  their churches' doors are still open. 
"I realized we need to open up," the Rev. Jeff Mello, Rector of St. Paul's Church in Brookline, said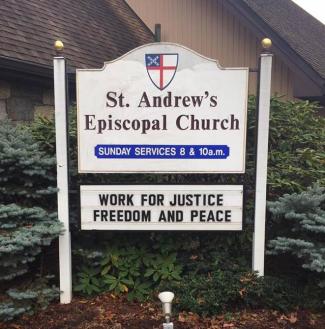 via Facebook Sign in front of St. Andrew's, Framingham, Nov. 9. in an interview with New England Cable News.  "We don't yet fully understand and we don't know what's going to come out of it, but we have hope." 
The Church of the Holy Spirit in Mattapan welcomed people to an evening service on election night, together with its partner church, St. Michael's in Milton, and then joined St. Michael's for a morning service the day after the election.  The Rev. Zenetta Armstrong, Rector of Church of the Holy Spirit, said that simply being together was the most important thing. 
"It provided a place to be in the presence of God and one another, to pray and find hope," she said.
The Rev. Marya DeCarlen, Rector of All Saints' Church of the North Shore in Danvers, said that her church's election eve vigil balanced contemplation and participation, offering both quiet candlelit prayer and time for anyone to offer intercessions.  The service was also live streamed on Facebook. 
"It was a beautiful experience to bid these prayers asking for mercy and compassion in a divided and polarized country," DeCarlen said. 
DeCarlen offered several suggestions for those looking for both prayerful contemplation and action in the wake of the election.  "Remember that as followers of Christ, our power is found in loving the stranger, the oppressed and the foreigner.  Take time to listen rather than react," she said. "Find time to nurture yourself with quiet: take a walk, turn off technology, dedicate yourself to a prayer routine." 
Like Armstrong, she urged togetherness in a time of uncertainty. "Come to church on Sunday where we can break bread together," DeCarlen said. "Invite others who may want to be in a soulful place with you." 
At the Church of the Holy Spirit, Armstrong is urging her community not to return to business as usual after they have processed the election results. 
"What has happened should result in action," she said. "And not just coming together and talking and then moving on with life as usual. I don't think we should return to that." 
She said the most important thing to remember is that "the community has the power." 
"We need to find ways to exercise that power," she said. "We have an opportunity to step up and change." 
--Ellen Stuart Kittle