Numerous churches, parks and public squares were wreathed in candlelight last week during vigils held across the country on the second anniversary of the Newtown, Conn., school shootings.

The vigils, including local ones co-sponsored by Episcopal churches and organizations in Medford, Boston and Falmouth, were organized under the auspices of the Newtown Action Alliance and other groups to highlight gun violence as a public health issue and to remember all gun violence victims--some 30,000 a year, according to the alliance.

Happening as they did in the context of ongoing unrest nationwide over recent grand jury decisions not to indict white police officers in the deaths of unarmed black men in Ferguson, Mo., and New York City, the vigils also highlighted heightened grief and resolve held in the hearts and minds of many this season.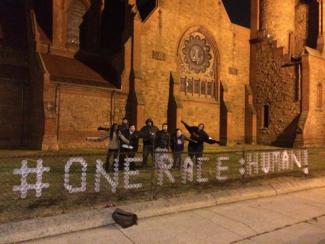 Courtesy Photo Young people at St. Stephen's Church in Lynn used cups and the church's fence to spell out their message.
"This time of Advent is a time of expectation," and those who work against gun violence "do the work of expectation," the Rev. Steven Kendrick, Senior Minister at First Church, Unitarian Universalist, in Boston, said at the Dec. 11 interfaith vigil held at his church and attended by about 100 people.  "We expect a world where our fellow citizens are no longer targets," Kendrick said.  "Vigils such as tonight's point us to such an eventuality."

In Medford, Grace Church helped gather about 100 community members, including Mayor Michael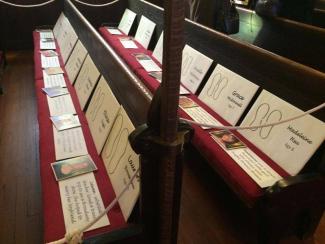 Courtesy Photo Grace Church in Medford remembered Newtown school shooting victims with a display shared in church and later at a Town Hall vigil. McGlynn and other civic and faith leaders, at Medford City Hall on Dec. 10, where they remembered gun violence victims with songs, prayers and speeches.  Grace Church created a display of the Newtown victims' photos, and children read out their names while lighting candles for each.

In Falmouth, people from St. Barnabas's Church and the Church of the Messiah, Woods Hole were among about 75 who gathered in a public park for a vigil on Dec. 14, part of an interfaith group organized with the local chapter of Grandmothers Against Gun Violence.

And, in Cambridge, St. James's Church designated Dec. 14--the national Gun Violence Prevention Sabbath--as "Black Lives Matter Sunday."  Before the morning service, according to the Rev. Holly Antolini, Rector, members of the parish's Anti-Oppression Team greeted parishioners arriving at the church's high-traffic corner at Beech Street and Massachusetts Avenue, and received plenty of honks from passing cars in response to the signs they were holding:  "Black Lives Matter"; "Justice & Equality"; "White Silence More Violence."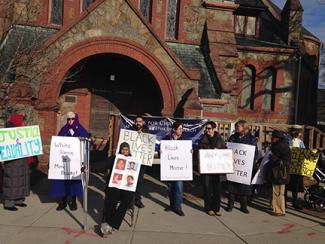 Courtesy Photo St. James's Church in Cambridge designated Dec. 14 as
"We prayed for all black people, particularly men, and many of us wore black in solidarity, offering our Eucharist in appreciation for all our sisters and brothers of color and in commitment to redress injustices in the manner of our policing and the deeper issues of racism that drive that injustice," Antolini said by e-mail.

At the close of the service, she said, members of the congregation followed the processional cross to the nearby Porter Square T station, where they stood in silence for a time, holding their signs, and then offered prayers before processing back to the church singing "We are Marching in the Light of God."

At the First Church, Boston vigil earlier in the week, there was bell ringing, prayers and music, and organizers lit candles for all 50 states and the District of Columbia while their respective numbers of gun violence victims were read aloud.  Candles were also lit for those who died from gun violence in Boston over the past year.

Members of the Diocese of Massachusetts' B-PEACE for Jorge antiviolence campaign were a visible presence at the vigil in their purple B-PEACE T-shirts, including Bishop Alan M. Gates, who gave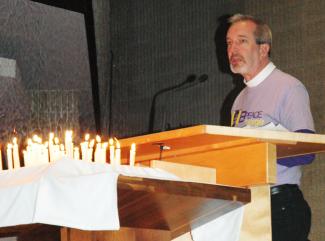 Tracy J. Sukraw Bishop Gates gave the opening prayer at the Dec. 11 vigil in Boston. the opening prayer. [The full prayer is available here.]

Tania Ortiz and Michael Cordero, youth organizers with the B-PEACE campaign and the youth programs at St. Stephen's Church in Boston, each gave a personal testimony describing how the murder of their friend, Jorge Fuentes, for whom the diocese's campaign is named, influenced them to seek change in their communities, and each ended with a call to action.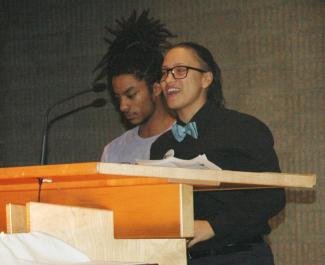 Tracy J. Sukraw Tania Ortiz and Michael Cordero, organizers for B-PEACE, offered personal testimonies. "Jorge's murder makes me want to figure out what would make a person get to the point where they feel their only choice is to pick up a gun," Cordero said.  "We, as a community dedicated to ending gun violence, need to think of gun violence as a public health matter.  We need to focus on preventing the situations where someone would pick up a gun.  This is a tall order, I understand this, but then what's our alternative?"

The assembly also heard from Rabbi Jill Perlman of Temple Isaiah in Lexington and the Rev. Liz Walker of Roxbury Presbyterian Church. 

Walker recalled Martin Luther King Jr.'s nonviolent approach to addressing social injustice and drew a connection between outward, physical violence and "internal violence of the spirit," something, she said, that "as a culture we all suffer from."  In addition to legislation, more police and community involvement and more funds to address violence, she said, "We are in desperate need of grace in the world.  Taking on the violent spirit within us, that is practicing grace."

Bishop Gates and Bishop Gayle E. Harris, in a Dec. 2 message to the diocese, commended the vigils as part of the national Gun Violence Prevention Sabbath on Dec. 14.

"The continuing legacy of racism and a culture of gun violence are among those sins by which we are sorely hindered," they said, calling "for prayer, dialogue and renewed dedication to issues of racial equity and justice."

"The dignity and sacred nature of human life is at the heart of the Incarnation which this season prepares us to celebrate," the bishops said.  "May God grant us the grace, wisdom, and courage to see that Incarnation in all its manifestations."
--Tracy J. Sukraw