For Life Together, the year began in August, with a welcome to 27 young adults chosen to participate in its 10-month fellowship program to work for social justice in Massachusetts and grow in their faith and as leaders while living together in intentional community.
Three months in, the fellows are serving in churches, nonprofits and schools. 
"This year, Life Together fellows are living God's call for us to 'Do justice, love mercy and walk humbly with God,' and they are doing it all across the state," Hazel Johnson said, referencing a guiding Scripture passage from Micah 6:8.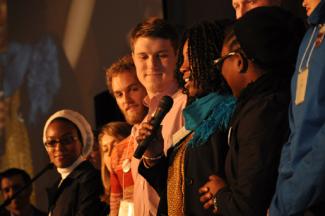 Tracy J. Sukraw Life Together fellows introduce themselves at Diocesan Convention (from left): Simone Sanders, Tiffany Curtis, Stephen Rainwater, Andy Gordon, Lacresha Johnson and Hazel Johnson "It is a year of feeding the hungry at Project Bread, organizing our young people to fight for jobs at Dorchester Bay Youth Force and preaching the good news at St. Chrysostom's Church in Quincy," Johnson said of other site placements through which Life Together fellows are now serving.  "It is a year of living the hope of God's love out in the world," she said. 
Nick Skinas, for example, through his work with the Massachusetts Council of Churches, has been involved during the recent election season creating a forum for people of faith to become informed and discerning voters.  "Through this work I am learning how to take meaningful action," he said.
Johnson described her own site placement at ECCO (Essex County Community Organization) as "a chance to share the news of God's love and mercy."  In October, she helped ECCO bring together about 150 clergy and lay leaders from varying faith backgrounds "to work toward a North Shore that is equitable for all of its residents," she said.
Begun in 2008, Life Together, a strategic ministry of the diocese—which started as the Relational Evangelism Pilot Program and then incorporated the already-established Micah Project intern program—expanded beyond the Boston area this year to deploy four interns to the diocese's pilot "mission hub" on the South Coast and an additional team of three teaching fellows at Esperanza Academy in Lawrence.
In addition to the direct service that Life Together fellows contribute through their site placements, the program is about building community more broadly, Johnson said.
 
"Life Together has the unique ability to bring together so many different groups of people, through their site placements, prayer partners, leadership trainers and mentors,"  Johnson said, and the invitation for the year ahead is open.  "If you want to be a part of answering God's urgent call, Life Together is now accepting applications."
For more information or to apply, send an e-mail to apply@diomassintern.org or visit www.lifetogethercommunity.org.
Larissa Alter, a Life Together fellow serving in Fall River, shared some of her story at Diocesan Convention.  Watch the video clip here.