The Camerata's pioneering exploration of folk hymnody in the young republic includes spiritual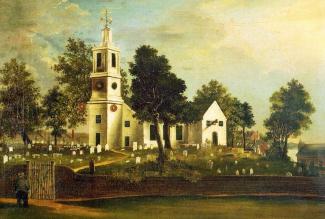 songs, hymns and anthems in a vigorous and authentic homegrown manner. This style, recalling many elements of European early music, grew up in the singing schools of colonial New England, traveled South and West in the 19th century and continues to live on thanks to a new generation of motivated singers in all parts of the country.
This collaboration at the newly renovated Cathedral Church of St. Paul includes singers from parish choirs, including St. Barnabas's Church in Falmouth, the Church of the Good Shepherd in Watertown, the Church of Our Saviour in Arlington, St. James's Church in Cambridge, Grace Church in Newton, St. Paul's Church in North Andover and St. Michael's Church in Milton. Please join us!
Boston Camerata: Anne Azema, director, voice; Michael Barrett, Daniel Hershey, Camila Parias, Deborah Rentz-Moore, John Taylor Ward, voices; Jesse Lepkoff, flute, guitar; Chris Belluscio, Brian Kay, Steven Lundahl, brass.

Tickets are $10-$55.  For tickets or more information: www.bostoncamerata.org.
Questions may be directed to cathedral@diomass.org.