The Charles River Deanery Youth Collaborative will be hiking the Blue Hills in Milton on Saturday,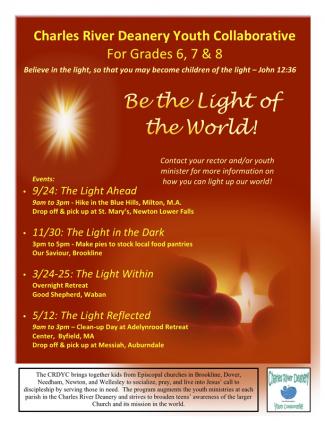 Sept. 24, 9 a.m.-3 p.m., with drop-off and pick-up at St. Mary's Church (258 Concord Street) in Newton.
Contact local parish clergy or youth minister for more information (find a Charles River Episcopal Church here).
The Charles River Deanery Youth Collaborative (for grades 6, 7 and 8) brings together kids from Episcopal churches in Brookline, Dover, Needham, Newton and Wellesley to socialize, pray and live into Jesus' call to discipleship by serving those in need.  The program augments the youth ministries at each parish in the Charles River Deanery and strives to broaden teens' awareness of the larger church and its mission in the world.