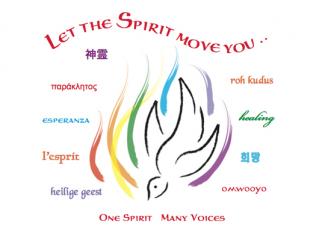 Join the bishops and the whole diocesan community on Pentecost Eve, Saturday, June 11, 7 p.m., at the Cathedral Church of St. Paul (138 Tremont Street) in Boston for a liturgical celebration of the diversity of people, communities, cultures and generations in the diocese.
The preacher will be the Rev. Edwin Johnson, Urban Resident and Assistant Rector at St. James's Church in Cambridge.
Read and share Bishop Shaw's invitation, available here.

Anyone who would like to participate by taking a role in the service or the planning is invited to contact the Rev. Leslie Sterling, St. Bartholomew's Church, Cambridge (617-249-0537, ext. 1); ammaleslie@gmail.com.
Sponsoring groups include the Cathedral Church of St. Paul, the diocesan Clergy of Color group, the Antiracism Ministry Team, Hispanic Ministries Committee, Lift Every Voice-Diversity in Leadership Committee, Slavery and Reconciliation Task Force, the Union of Black Episcopalians and the Episcopal Boston Chinese Ministry.
Art by June Santosa