Episcopalians of all ages are invited to join Bishop Alan Gates of the Diocese of Massachusetts and Bishop Doug Fisher of the Diocese of Western Massachusetts as they walk a stretch of both dioceses together and then join for a panel discussion with youth.
Youth from both dioceses are especially invited, but this special joint event is open to all.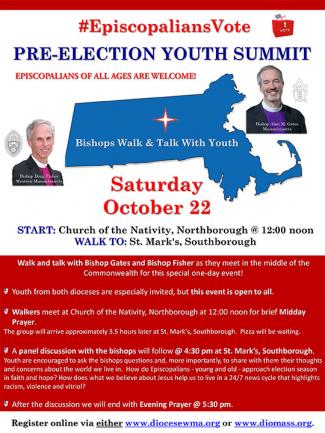 Walkers will gather with the bishops at the Church of the Holy Nativity (45 Howard Street) in Northborough, in the Diocese of Western Massachusetts at noon.  After brief midday prayers, they will step off on their approximately eight-mile walk.  The group will arrive about 3.5 hours later at St. Mark's Church (27 Main Street) in Southborough, in the Diocese of Massachusetts.  Pizza will be waiting.
A panel discussion with the bishops will follow at 4:30 p.m. at St. Mark's Church in Southborough.  Youth are encouraged to ask the bishops questions and, more importantly, to share with them their own thoughts and concerns about the world we live in.  How do Episcopalians--young and old--approach election season in faith and hope?  How does what we believe about Jesus help us to live in a 24/7 news cycle that highlights racism, violence and vitriol?
The program will end with Evening Prayer at 5:30 p.m.
All are welcome!  This is a rain-or-shine event.  There is no cost to participate, but advance online registration is requested to help organizers plan appropriately for the day.  Register online here.
A lesson plan to help youth groups prepare for the event is available here.  (Youth groups are encouraged to use the guide for their own local conversations regardless of participation in the Oct. 22 event.)