This year's diocesan Spring Learning Event helps us ask questions about how we are participating in God's mission in the world as society changes around us.
The day includes discussion, sharing, networking and stories from churches around the diocese.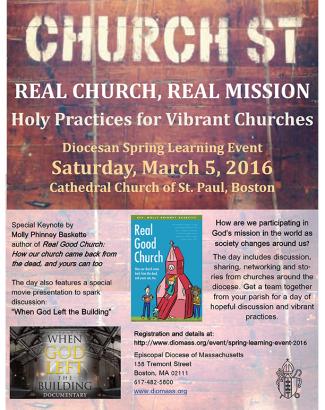 Get a team together from your church for a day of hopeful discussion and sharing vibrant practices. 
Keynoter for the day is Molly Phinney Baskette, author of Real Good Church: How Our Church Came Back from the Dead, and Yours Can, Too.  She will share some of the nuts and bolts of renewing and refreshing church, and connecting the church to the community. 
The program will also feature a screening of the movie "When God Left the Building," a documentary which explores societal changes and their effect on traditional church attendance--sure to spur discussion on new approaches to sharing the Gospel. 
The day also includes lots of time to share with others from churches around the diocese. Compare notes, share dreams and projects, and hear the stories of colleagues who have seen growth and renewal.
About Molly Phinney Baskette
The Rev. Molly Phinney Baskette is, in no particular order, a mother, spouse, recovering workaholic, cancer survivor and adventurous home cook.  She's also just finished as the lead pastor of the quirky, burgeoning community of First Church Somerville UCC. She is the author of Real Good Church and Standing Naked Before God: The Art of Public Confession.
She grew up in Boston and attended Dartmouth College and Yale Divinity School before moving to Colima, Mexico, to teach the Bible and literacy to Mexican orphans.  As an ordained minister in the United Church of Christ, she has served urban and suburban churches, tiny churches and teeming churches. These days, she lives in Arlington with her husband, Peter, her daughter, Carmen, and her son, Rafael.
You can read more of Baskette's writing at Holy Spirit Portality, a blog about cancer, ministry, parenting and faith. She is also the author of two practical grief books for children, Remembering My Grandparent and Remembering My Pet.
Registration fees (includes lunch): 
$20 regular registration / $15 per person for groups of five or more / $10 students 
Scholarships are available. Please contact Amy Cook at acook@diomass.org for a special code BEFORE registering online.
Click here to learn more and register. 
Questions may be directed to Amy Cook at 617-482-4826, ext. 645 or acook@diomass.org.