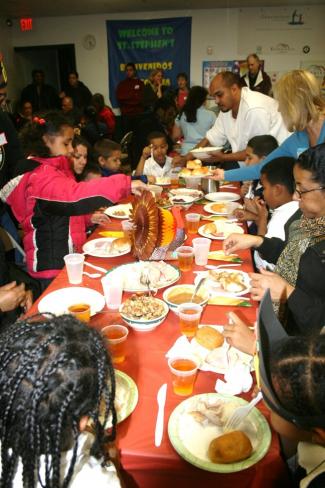 Sharing a Thanksgiving feast.
What's a Wahoo, you ask? The Turkey Wahoo is an annual Thanksgiving meal for students in the afterschool program at St. Stephen's Church in Boston, along with their families, program staff and alumni.  This year the Parish of the Epiphany in Winchester will be arriving at St. Stephen's with pies, turkeys and more on Tuesday, Nov. 26, ready to serve a festive meal to more than 200 students, parents and staff members.
This is the eighth year that Epiphany has served up an early Thanksgiving feast at St. Stephen's. The Turkey Wahoo began because Epiphany was searching for a way to be more involved in the St. Stephen's afterschool program.  Epiphany had already been involved with the B-SAFE summer program at St. Stephen's, but the parish wanted to do more.
"We had such a great response to being a part of the St. Stephen's community [as part of B-SAFE] that we decided to take on the Thanksgiving meal," event organizer Betsy Walsh said. "We wanted to extend our involvement into the school year."
Parishioners from Epiphany prepare all of the food and serve the meal, and provide games and a Thanksgiving craft for the students.  Epiphany usually has 15-20 parishioners who go to St. Stephen's to serve the meal, and many more who help by preparing food ahead of time. "We encourage teenagers to join–it's an intergenerational event," Walsh said.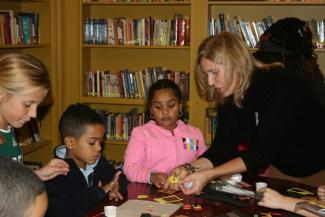 Making Thanksgiving crafts. In the past the Turkey Wahoo has served more than 225 people, and Walsh said that she only expects the event to grow. For the first time, alumni of the St. Stephen's afterschool program were invited to come back and join in the meal.  In the small space of St. Stephen's Church, that makes for close quarters, but Walsh said that it's all part of the fun.
"It's a bit cramped but it is a wonderful event—there's such high energy and enthusiasm," Walsh said. "I always tell my volunteers it will be hot, it will be crowded, it will be chaotic—and it will be the best part of their Thanksgiving."
--Ellen Stuart