All Saints Parish in Brookline presented its 15th annual All Saints Parish Spirituality and Justice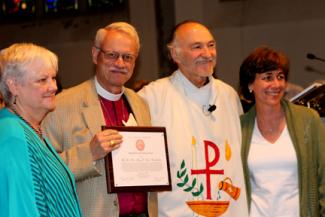 From left: Ruth Ann and Bishop Bud Cederholm; the Rev. David Killian, Rector; and senior warden Roberta Schnoor Award to Bishop Bud Cederholm on Sunday, April 22 during the 10:30 a.m. worship service.  The award was presented to Cederholm, recently retired as bishop suffragan of the Diocese of Massachusetts, in recognition of his leadership in environmental stewardship. He was instrumental in establishing the "green" grants initiative of the diocese which provides start-up funds for congregations to conserve energy and lessen their carbon footprint.  Also cited was his tireless organizing for diocesan commitment to relief and development work in the Gulf Coast following Hurricane Katrina in 2005.  He made numerous mission work trips to Mississippi and Louisiana and his example inspired parish and student groups to similar service.
The Spirituality and Justice Award is given to persons whose notable commitment to justice for all of God's people is grounded in a deep spiritual life.  Nominees are persons from all faith traditions who have significantly contributed to the furtherance of justice and whose work has been informed by their own deep spirituality.  The Rev. Dr. David A. Killian, Rector of All Saints, said, "The presentation of the award is a special time each year as All Saints Parish lifts up an outstanding person for recognition by the community.  As we honor these distinguished persons we draw strength from their example.  They inspire us to renew our commitment to justice as an essential expression of our spirituality and faith."
In past years the award was presented to Bishop Barbara C. Harris (1998); Bishop Simon E. Chiwanga (1999); Bishop M. Thomas Shaw, SSJE (2000); Bishop Steven Charleston (2001); Archbishop Desmond M. Tutu (2002); Dr. Yang Jianli and Ms. Christina Fu (2003); The Rev. Dr. Margaret Bullitt-Jonas (2004); Bishop V. Gene Robinson (2005); The Hon. Byron Rushing (2006); Peter Stringham, M.D. (2007); Paul Farmer, M.D. (2008); Marian Wright Edelman (2009); The Rev. Dr. Deborah Little Wyman (2010); and James Carroll (2011).
At a reception following the service, Cederholm and his wife, Ruth Ann, greeted the congregation. 
For the rector's sermon at the worship service honoring Bishop Cederholm, go to www.allsaintsbrookline.org.
PHOTO:  Chuck McVinney