After years of silence, bells are ringing again at St. John's Church in Holbrook.  A new carillon bell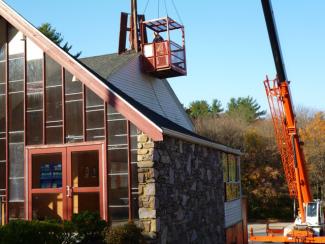 system was dedicated on Dec. 9.  Parishioners there report that the new digital bell system sounds like real bronze bells.  "The beautiful bell music once again rings out familiar hymns in celebration or remembrance of loved ones and special occasions or events," they say.
The original bell system was installed in 1975 and was given by a parishioner in memory of his father.  After about 25 years, the bell system started needing constant repair and eventually fell silent.
"Neighbors and other members of the community have expressed gratitude and joy for the return of the bells to St. John's.  We are also excited and thankful that the carillon bells at St. John's are once again a focal point and part of the community life of Holbrook."