Every year, more than four million people gather in Relay for Life events in more than 20 countries, raising some $400 million for cancer research and support.  In honor of Bishop Tom Shaw, who is undergoing treatment for brain cancer diagnosed in May, a team of 40 people from parishes in the Lower Merrimack Valley Collaborative participated in the Amesbury Relay for Life on Aug. 17.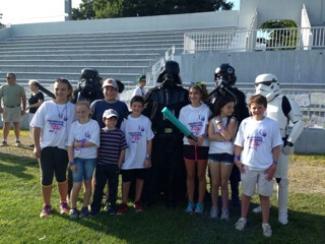 Kids take a break from walking to meet some Star Wars celebrities.
The team, including many families and youth, camped out overnight and took turns running or walking around a track for 24 hours, keeping one team member on the track at all times to represent that "cancer never sleeps." (The Lower Merrimack Valley Collaborative parishes that participated were St. James's Church in Amesbury, St. James's Church in Groveland, St. Paul's Church in Newburyport and Trinity Church in Haverhill.) They were joined on the track by Bishop Tom for the survivors lap, which is the day's opening lap and the kick-off for the 24-hour event.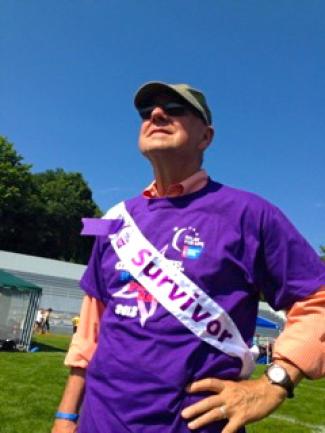 Bishop Tom at the Amesbury Relay for Life
"St. James's, Amesbury, having participated in the Relay for Life previously, coached us all about how to prepare for the relay," said the Rev. Marya DeCarlen, who is rector of the Groveland church.  St. James's Church in Amesbury also provided tents on the day of the relay, so the team's walkers and runners could camp out overnight.
The team set an original fundraising target of $1,000, a goal that they far exceeded. The youth groups alone raised more than $1,000, and all together Bishop Tom's Team raised a total of more than $3,500.  "It's a very exciting achievement considering we didn't start until three months before the relay," said Jen Collins, Christian Education Coordinator at St. James's in Amesbury. "Most teams start in September and fundraise all year long.  We learned a lot and we are already thinking about how to achieve an even higher goal next year." 
The Amesbury Relay for Life raised more than $60,000. The money will be donated to the American Cancer Society and used for free programs that provide resources to people recently diagnosed with cancer. 
--Ellen Stuart