It has been more than nine months since Sandy tore through the East Coast, devastating many communities along the mid-Atlantic and causing damage as far north as Maine. There are thousands of homes that are still in need of repair, and the clean-up efforts are ongoing. Rebuilding these coastal communities promises to be a long road, and many Episcopal churches and organizations are lending their skills and time to rebuilding efforts and long-term projects (Episcopal News Service). 
Parishes from the Diocese of Massachusetts continue to be involved with the relief efforts. On July 24 and 25, 11 people from the Bristol Cluster parishes (including a group of youth from St. John's Church in Taunton) traveled to Staten Island on an Episcopal Relief & Development relief trip. Participants ranged in age from 10 to 70. The group spent two days in Staten Island, sleeping at night on the floor of the parish hall of a welcoming church on the north shore, Christ Church in New Brighton.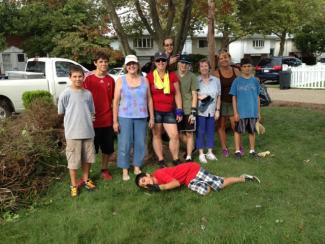 The group helps out with yardwork in Staten Island.
The Bristol Cluster parishes, in addition to St. John's in Taunton, include St. Mark's Church in North Easton and the Church of St. John the Evangelist in Mansfield.
With the leadership of Darrell Hayes, the New York disaster relief coordinator, the group from the Bristol Cluster pulled out bushes ruined by salt water at one house, weeded and planted bushes at another and shoveled gravel for the foundation of a garage.  
"The kids were fabulous and worked hard," said Tinka Perry, the Episcopal Relief & Development coordinator in the Diocese of Massachusetts. "It was great for the kids to learn about giving back, to help others as a way to thank God for what we have." 
The trip made an impression on the group of kids from St. John's Church in Taunton, the youngest of whom was just 10 years old. They were struck by the level of damage that was still evident along the coast.  "We saw homes that were just gone.  We saw homes that people could not live in because the water got up to the windows," said Joey Busa, 10. 
The group also went inside a home to see the damage caused by floodwater. "It was depressing how water can cause so much devastation," said Sophia Branco, 11.  
The kids who traveled to Staten Island said that helping others made them feel accomplished, and proud of their hard work.  "It felt so good helping someone that needed our help, and I would do it again without even thinking. I hope we can go again next year because I had a wonderful time," said Nicholas Rivard. 
"When I took an unhealthy tall shrub out, I felt I accomplished something…I felt proud of what I did," said Sophia Branco. "What I did those two memorable days, I will never forget in my life."
--Ellen Stuart