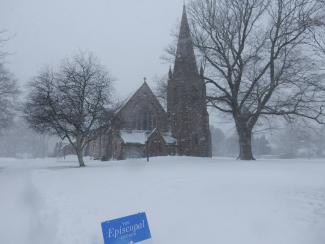 Courtesy St. Barnabas's, Falmouth, after one of last winter's record-breaking storms. As December's mild temperatures give way to single-digit January nights, new and longstanding ministries are responding to the issue of homelessness on Cape Cod and the islands. At St. Barnabas's Church in Falmouth, St. Andrew's Church in Edgartown, Grace Church in Vineyard Haven, and just off the Cape at Good Shepherd in Wareham, Episcopalians are offering meals, financial support, time and the use of church buildings to their neighbors facing homelessness in the coldest part of the year. These ministries are supported by an array of houses of worship and community organizations, and have seen an outpouring of support. 
The Rev. Chip Seadale, Rector of St. Andrew's Church in Edgartown, said that the response from the Martha's Vineyard community has been quick and enthusiastic. 
"Over 125 people living on the island have volunteered, and 200 have given us their e-mail address to help out with meals, blankets, anything we need," he said. "At last count, 13 houses of worship on the island have volunteers who are helping." 
Seadale and his colleagues in the Island Clergy Association began discussing a way to provide temporary shelter for their homeless neighbors last winter. They spoke with Chuck McCullough, the coordinator of homeless ministries at the Church of the Good Shepherd in Wareham, and to the coordinators of the Noah Shelter in Hyannis.
"We had kind of a haphazard hotel voucher program, especially for families, but usually the remedy was to put them up in a hotel for a night or two and then ship them off to Hyannis to the shelter there," Seadale said. "We wanted to do something that was a bit more inviting and welcoming to people." 
Although homelessness on the Cape may be less visible than elsewhere, it is a constant presence, and Seadale said that clergy are often the ones turned to for help. 
"For years, people who live here have had anecdotal information about people who are sleeping in cars, or in sheds, high school kids who are unhoused," he said. "The clergy have been kind of on the front lines knowing about this, getting people in their offices asking for help." 
Seadale said that it can be hard to know exactly how many people are homeless on Martha's Vineyard. The state figures are based on a point-in-time census, which can be affected by weather conditions and other factors. It also may not account for people who are couch surfing, or sleeping in cars or outbuildings. 
"Last year, the day they were out [doing the census] there was a huge blizzard and the count came out to almost none. Clergy know that's totally counter to reality," Seadale said. "If you want to count people who couch surf, or who really don't have their own homes, that number can be as high as 100-150 on the island at a given time. Anecdotally, from the high school guidance counselors we know that at any time there can be 15-20 high school students without homes." 
Pending some fire code updates at Grace Church, the new overnight shelter will rotate among St. Andrew's Church, the Federated Congregational Church and Grace Episcopal Church in Vineyard Haven. One house of worship offers a community supper every night, and food from the supper will also feed any guests at the overnight shelter. If no guests arrive by 8 p.m., the shelter will close for the night and the volunteers' overnight shift will be canceled. 
Seadale said that the churches are working on getting the word out to the Vineyard's homeless population. "Now we get together with faith communities and the town manager to get the word out to people, really start the word of mouth communication," he said. 
At the time of the interview, the Vineyard shelter had not yet had a guest, but the volunteers were upbeat. 
"The attitude of the volunteers is really good, everybody seems to know that they're doing something that ought to be offered on this island," Seadale said. "Many people know someone personally or through others who from time to time need programs like this, so we feel like with this and the community suppers we are being responsive to our friends and neighbors who need help." 
Two days after the interview, Seadale wrote: "We had our first guest last night at Hospitality Homes. He had been sleeping on his boat and couldn't take it anymore. All he wanted to do was sleep. He hugged me before going to bed."
###
The new ministry on Martha's Vineyard was informed by Nights of Hospitality, the successful ecumenical homeless ministry in Wareham that began in 2007.  Good Shepherd in Wareham is one of several churches in the community that support two alternating shelter sites. Chuck McCullough, coordinator of homeless ministry at Good Shepherd, said that the shelters have seen a spike in guests since they opened just after Christmas. 
"This time of year normally we have five to seven folks who come into the shelter, but last week we topped out at 18. All of a sudden our population has certainly doubled and at times tripled," he said. "We don't know if there are more homeless people in town, or if it's just folks passing through. We think a piece of it is that over time we've formed some trust in that community--they're a lot more comfortable coming in." 
The churches that participate in Nights of Hospitality with Good Shepherd are St. Patrick's Roman Catholic Church, Emmanuel Church of the Nazarene, Bay Community Alliance and Onset Four Square Church. The shelter locations are at St. Patrick's Roman Catholic Church and Emmanuel Church of the Nazarene.  (The shelter location needs to alternate from week to week in order to be considered temporary housing under town and state law. The two shelter locations must meet stringent regulations and fire codes, and obtain a license from the town each year.) Each church is responsible for providing staff, supervision and food for guests one week a month, with Bay Community Alliance and Onset Four Square Church sharing a week. The local Elks Club and Eagles Club also provide meals on a rotating basis. 
It is a natural extension for Good Shepherd, which also has an active food ministry. Volunteers from Good Shepherd's food pantry and soup kitchen provide all of the breakfast food and one of the evening meals during Good Shepherd's shelter week. The Good Shepherd pantry and soup kitchen also serve the "near homeless" population of Wareham, mostly comprising young families who live in motels. McCullough estimates that Good Shepherd feeds 85-125 "near homeless" individuals at its weekly Thursday night dinners.
McCullough and his wife recently spent a weekend on Martha's Vineyard, where they spoke with Seadale and local volunteers. "We opened ourselves up as a sounding board for those folks, shared a lot of our documents with them and just answered questions," McCullough said. 
McCullough said that he was glad to be able to share what the Wareham churches have learned in their years coordinating Nights of Hospitality. 
"I think it's just a very healthy outreach program for all of the churches in the town of Wareham, certainly sorely needed. It makes you feel good to be able to invite folks in, invite them in for some quiet conversation over a hot meal, and then give them a hearty breakfast in the morning and get them on their way."
###
Houses of worship in Falmouth are also organizing to give their homeless neighbors some shelter from the cold.  Falmouth's homeless ministry is an ecumenical collaboration among the people of St. Barnabas's Episcopal Church, John Wesley United Methodist Church, the Waquoit Congregational Church and others. The Rev. Patti Barrett, Rector of St. Barnabas's, said that the group has also been in touch with the housing authority and various other groups that work with the homeless on an official basis.  "There's been a lot of interest in town, a lot of people want to help and donate," Barrett said. 
St. Barnabas's is currently working on getting its building up to code (fire regulations require hard-wired carbon monoxide detectors in any building where people will be sleeping). Barrett said that she has already received the financial donations needed to make this update, with the hope of being able to open the church as a shelter soon. For the time being, guests are being housed at a motel, thanks to financial donations from the community. St. Barnabas's was part of the Overnights of Hospitality homeless ministry in Hyannis (now replaced by the permanent Noah Shelter), and still has beds and other supplies from that period. 
The Falmouth homeless ministry has had five to six guests per night since it opened on Jan. 8. Barrett said that the ministry has not established an end date. 
She said that the Cape, with its high concentration of summer homes and tourism-centric jobs, is a place where many can find themselves living on the edge of homelessness. 
"What we learned quickly was that these people who are homeless are just like you and me, just one paycheck short of having a place to stay," she said. "A lot of them have cars and are sleeping in their cars…it's our stereotypical image that needs to be adjusted. This could be our children. It's a lot of people who have jobs but they just don't have enough to live here."
Barrett is heartened by the outpouring of support the new ministry has seen from churches and the community as whole. 
"There's so many people that want to help, with donations [for hotels], cooking, anything we need," she said. "When all these good things happen, you say this is definitely something that is Spirit-driven." 
--Ellen Stuart Kittle